Retired Bishop of Lewes child protection complaints dismissed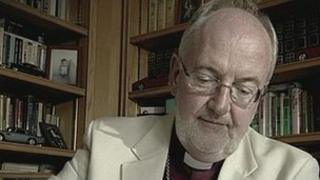 A retired bishop who was facing disciplinary proceedings over alleged child protection failings has said the case against him has been dismissed.
The complaints were made against former Bishop of Lewes, the Rt Rev Wallace Benn, by the safeguarding advisory group of the Diocese of Chichester.
Bishop Benn said no misconduct of any kind had been established under the Clergy Disciplinary Measure (CDM).
The Diocese of Chichester was asked to comment but has not done so.
Bishop Benn was accused of failing to tell police about paedophile priest Robert Coles, who was jailed in February for sexually abusing three boys aged from 10 to 16.
It was said in court Coles told senior clergy, including Bishop Benn, he had abused one of the children but the information was not passed on to the police.
Bishop Benn subsequently insisted there was no ineptitude or cover-up on his part.
The CDM complaints were investigated by Archbishop of York John Sentamu and the Rt Hon Lord Justice Mummery.
In a statement published on the Anglican Mainstream website Bishop Benn said the complaints were misconceived and misjudged.
"Some of the complaints have been dismissed on their merits and the rest on the basis that they have been made outside the time allowed," he said.
Bishop Benn also criticised leaks to the media about the CDM complaints but said he had previously declined to make any public comment on legal advice.
"The actions of clergy who have engaged in the abuse of children appal me and the ongoing effect on survivors is of the highest concern to me," he said.
"Throughout my time as Bishop of Lewes I have, at all times, tried to assist the diocese to deal appropriately with safeguarding issues.
"I have also welcomed and given my full support to the efforts made and being made to improve the practices and procedures within the diocese for safeguarding children and vulnerable adults.
"But none of what has happened in the past can justify the attempts which have been made to cast me in the role of a scapegoat without regard to where the truth lies and where the blame ought to lie."