Cornish pasty makers fear potato price may raise costs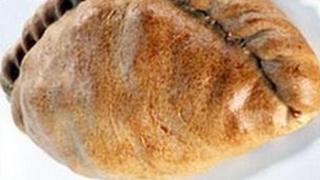 Cornish pasty producers are worried they may have to put up their prices because of a big increase in the cost of raw ingredients.
Some pasty makers are paying almost three times as much for locally-grown potatoes than they were last year.
The price of West Country beef and onions - two staple pasty ingredients - has also risen.
Avice Gill, who runs Aunt Avice's Pasty Shop in St Kew Highway, said the rise in the cost of raw ingredients was "hurting" her business.
"A bag of potatoes which was £5.50 last year costs £14 this year," she said.
"Being a small business it does hurt - we're just a little backwater shop."
The Potato Council said a reduced crop in 2012 meant prices had risen by 216% compared with the same period last year.
Ruth Huxley, of Cornwall Food and Drink, said the past 12 months had been "unparalleled" in terms of difficulties for growers and producers.
"Ingredient costs have undergone significant increases in the last six months and some businesses are struggling to pass those increases on because spending power of the average household hasn't increased by the same proportion," she told BBC News.
The manager of one pasty shop in South East Cornwall said her locally-grown potatoes now cost "three times as much as last year" and she was anticipating having to put up her prices.
"The season hasn't been great for farmers and that has had a knock-on effect for everyone," she said.
Julia Barnett, from Bodmin-based Barnett Fare, which supplies around 20,000 products a week around the country, said: "It's all Cornish potatoes we use and because of the weather conditions we're now paying around £11 for a vat of pre-washed potatoes."
She said the cost of West Country beef had also risen because the horsemeat scandal had increased consumer demand for beef.
"We've absorbed some of the rise but we're now looking at our costs carefully," she added.
Rob Vingoe, from Berryman's bakery which has four shops in Cornwall, said rising food costs were "more of an issue" than the so-called "pasty tax" of 20% VAT on hot food.
A member of the Cornish Pasty Association said that even if it was possible to source cheaper ingredients outside the Duchy, to make a "proper" Cornish pasty it was important to use local ingredients.
Cornwall's normally mild climate means the county is particularly suitable for growing early potato crops and they have been widely grown since the mid 1700s, when the potato and pilchard were the staple diet of most working Cornishmen and their families.
Edward Richardson, farming advisor for Farm Cornwall, said farmers had told him the Cornish potato crop for this year was "about a month behind".
He said: "Normally this part of Cornwall will be starting to harvest before anyone else does at the end of April or beginning of May."
Low soil temperature
He said the late harvest was down to a combination of late planting because of bad weather and the cold winter preventing seeds germinating.
Potato farmer Richard Thomas, of Trevear Farm in Sennen, said: "Growth has been so slow and soil temperature has been so low, we have not had growing conditions that suggest we're going to get a bumper yield.
"We've come through a full calendar year of unseasonal weather. All the crops have suffered."