'Pasty tax' confusion for Cornish businesses over 20% VAT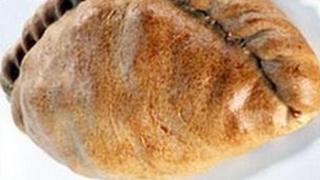 There is still confusion over the way VAT is charged on the sale of Cornish pasties a year on from when the so-called "pasty tax" was announced.
A survey by the Cornish Pasty Association has found some firms in Cornwall are charging the 20% tax while others are absorbing the cost.
If a pasty is still warm from the oven, VAT should not be added but it should if it has been kept warm in a cabinet.
One firm said the cost of ingredients was more of a problem than VAT.
Plans to introduce the tax payable on takeaway food sold to be eaten hot were announced in March 2012 and introduced in October.
According to the survey, some businesses were turning off their heated cabinets so they do not have to charge VAT.
Others are cooking smaller batches more frequently so the pasties are still warm.
'Another anomaly'
Ruth Huxley from Cornwall Food and Drink told BBC Radio Cornwall people had been mistaken last year when they believed the government had made a "U-turn" on the introduction of the tax.
"It wasn't a U-turn, it was a compromise - people think the pasty tax has gone away but it hasn't," she said.
"Some customers think they shouldn't be paying VAT on pasties.
"Something that was meant to iron out an anomaly has just created another anomaly.
"Businesses are still finding their way with it... and are trying different things."
Rob Vingoe, from Berryman's Bakery, a family-run business which has four shops in Cornwall, said: "We bake at different times of the day and sell our pasties regularly so the tax has had no effect on us.
"Initially customers were confused about what was going on but only for the first few days."
Price rise fears
The manager of a pasty shop in South East Cornwall, who did not wish to be named, said the company had chosen to keep prices the same and absorb the VAT into its costs.
But she said prices would have to rise at some point.
Avice Gill, who runs Aunt Avice's Pasty Shop in St Kew Highway, said the rising cost of ingredients was far more of a problem than VAT.
She said: "A bag of potatoes which cost £5.50 last year now costs £14.
"Being a small business it does hurt."
According to the survey, the combination of the VAT change and rising cost of ingredients has cut pasty sales by between 10 and 30%.
Ms Huxley said: "The timing was terrible because of the cost of ingredients going up and people's spending power being reduced.
"VAT on food of 20% is an enormous amount for people to take out of their takings on foods."
Businesses which took part in the survey said they did not object to VAT on the sale of hot food but said they would like to see it reduced to about 5%.