Ten Tors: Dartmoor event's future 'is safe despite armed forces cuts'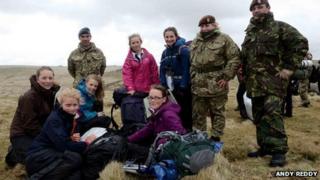 The future of the annual Ten Tors event is secure despite governments savings planned for the armed forces, it has been claimed.
The two-day trek over Dartmoor involves youngsters aged between 14 and 19 trekking up to 55 miles (89km). About 2,400 took part at the weekend.
It its organised and supervised by the Army, Territorial Army and Royal Navy.
Ten Tors director Brigadier Piers Hankinson said the Army was "committed" to the event and safety was paramount.
'We can react'
Despite government plans to restructure the Army and reduce its numbers from 102,000 to 82,000 by 2017 - while at the same time boosting reservist numbers from about 15,000 to 30,000 - Brig Hankinson said: "The Army is committed to running this in the future.
"The young people are my responsibility and I can call in navy helicopters and Army assets.
"In the worst case scenario, we can react and allow safety to be paramount."
Last weekend, teenagers in teams of six took part in the challenge, with the majority from schools and youth groups in the south-west of England.
They set off on Saturday, camping on the moor overnight and completing the trek on Sunday.