Schoolgirl 'sold to Eddy Shah to pay credit card bills'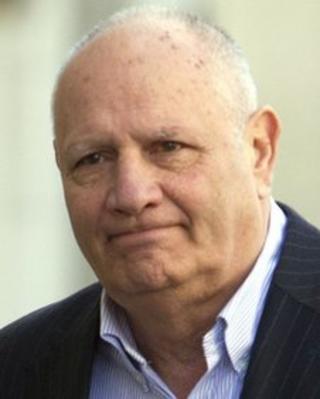 A teenager was "sold" to former newspaper owner Eddy Shah to pay off a prostitute's credit card bills, a court has heard.
The woman, now in her 30s, alleges Mr Shah raped her after she was taken to London hotels by Susan Davies, 53.
The abuse took place in the early 1990s but were not reported to police for about 20 years, the Old Bailey heard.
Mr Shah, Ms Davies and her ex-partner Anthony Pallant deny indecent assault, rape, child cruelty and other charges.
'Beautiful dresses'
The court heard Ms Davies took the girl to a hotel when she was 14 and told her to have sex with Mr Shah, but she refused.
The teenager was warned not to refuse again before Mr Shah allegedly put £650 in Ms Davies' handbag.
The woman told the court Ms Davies insisted she take part in sex sessions so the defendant could "pay her credit card bills".
She remembered being involved in eight such sessions, the jury heard.
"She told me she'd run up credit card bills," the witness said. "She used to buy beautiful dresses. I never benefited from their arrangements whatsoever."
The woman told the Old Bailey she had been asked to undress by Ms Davies and Mr Shah and found herself in bed with them.
Golf course owner
She said: "He just did it. He didn't ask me any questions about my feelings. I was just complying and he took that as his right to do it."
Mr Shah, 69, of Chippenham, Wiltshire, denies six counts of rape.
Ms Davies, 53, of Swanley, Kent, denies 14 counts of aiding and abetting rape, indecent assault and child cruelty.
Her former lover Anthony Pallant, 53, of West Malling, Kent, denies six counts of rape and indecent assault.
Mr Shah founded the defunct Today newspaper and now owns and runs golf courses, leisure centres and hotels.