Ex-Doncaster Mayor Peter Davies on 'horrendous' meetings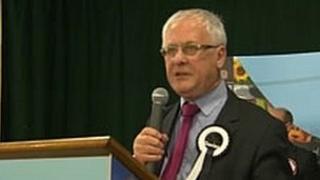 Horse racing fan Peter Davies could not have chosen a better venue for his last stand against the powerful Labour political machine in Doncaster.
The main stand at the town's famous racecourse was chosen for the count and it gave as much excitement as the final furlong of the St Leger.
Recounts, bundle-checks and then totting up second preference votes took a marathon eight hours to see Labour cross the winning post with a total of 25,364 votes - just 689 ahead in what turned out to be a runaway two-horse race.
Mr Davies had embarrassed Labour in Ed Miliband's back yard four years ago when he was the surprise winner of an election for executive mayor that had seen the candidate wearing a red rosette canter home well ahead of the field at the previous two ballots held in 2002 and 2005.
The blunt right-winger bounced into office with a cost-cutting agenda which included his own salary and what he called "politically correct" spending on the town's gay pride event and translation services for residents who could not speak English.
'Horrendous' meetings
He was often outspoken and his farewell speech shortly after hearing he had lost did not disappoint as he took a last sideswipe at the way local politics works.
"I will tell you a couple of things that I will not miss," he said. "I will not miss the council meetings which were horrendous in the extreme for the most part.
"I will also admit for the first time publicly that I will not miss attending Sheffield City Region and LEP meetings which are as boring as it comes and I tell you Doncaster does not really need Sheffield."
As he left the stage one ecstatic Labour supporter tweeted: "The four year night Mayor is over".
But many in Doncaster clearly do not share that view. His avuncular, no-nonsense attitude clearly struck a chord.
Labour threw the kitchen sink at this election with Ed Miliband and virtually the entire shadow cabinet turning out to canvass and knock on doors for their candidate, but the party was pushed all the way to the finishing post by the sitting mayor, who stood for re-election as an independent with a tiny band of activists handing out leaflets for him.
New mayor Ros Jones vowed the town would be run differently now.
But will things be as simple as that?
The issues, which have seen Doncaster such a difficult town to govern, stretch back much further than the four-year term of Peter Davies.
Problems with the strategic management of its children's services department could see it become the first council in England to lose that responsibility.
It is six years since the local government standards watchdog the Audit Commission expressed its concerns about the town's ability to govern itself.
By the time Peter Davies was elected, Whitehall commissioners were installed to oversee virtually every decision taken by him, his cabinet and the council.
A few months before the election it was revealed that the commissioners would be in place for at least another two years.
It is going to be quite a task for the new Labour Mayor Ros Jones is to regain that political ground.