Queen's Speech: High-speed rail on fast track?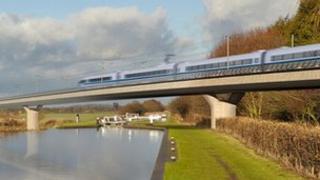 There are times when what is not in a Queen's Speech causes as much of a stir as what is.
A year ago, a welter of speculation followed an address in which high-speed rail was conspicuous by its absence.
Was the government quietly driving the project into the sidings because of the furious opposition it had encountered in the shires, not least among Tory backbenchers?
So this speech represents an emphatic answer - not just one but two bills on HS2.
The so-called hybrid measure which would give Parliament's backing to the first phase between London and Birmingham but also a surprise second bill, preparatory legislation which would accelerate the flow of money into detailed construction design work, ecological surveys and compensation payments for residents and businesses along the proposed route.
The head of the local transport authority Centro, Geoff Inskip, was quick to see this as a clear signal of the government's determination to press ahead.
'Significant politically'
"This is exactly what we wanted to hear. A continuing commitment and tremendous news for the West Midlands," he enthused.
And the Birmingham and Solihull chambers of commerce said it was time for local firms to get their act together and compete for £33bn worth of contracts.
It is equally significant politically, especially after last week's strong showing in the county council elections by UKIP and Green candidates for wards on the proposed route through Staffordshire and Warwickshire, respectively.
But in Parliament itself, all the MPs with seats on the line still represent only a minority voice. The scheme commands an overwhelming consensus among the three main parties there.
Talking points
Increasingly, the debate appears to be shifting away from whether or not the line should be built at all, to the compensation arrangements and detailed work on softening its environmental impact.
This will be among our main talking points in this week's Sunday Politics programme. I will be joined by the Conservative MP for Redditch Karen Lumley, a member of the Commons Transport Select Committee, and by the Labour MP for Stoke-on-Trent Central, Tristram Hunt, who has been calling for a reversal of the decision not to give his city its own dedicated HS2 station.
And I hope you will join me too from 11:00 BST on BBC One this Sunday, 12 May 2013.