Sea bird pollutant source identity 'closer'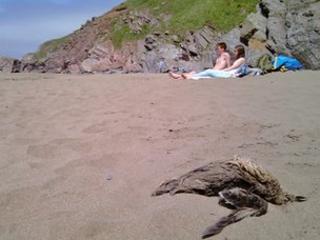 The source of a pollutant which has killed and injured thousands of sea birds is closer to being identified, maritime investigators have said.
Nearly 3,000 birds have been affected by a discharge of the chemical polyisobutene (PIB) off the south and south-west coast.
The Maritime and Coastguard Agency said it had narrowed its search for the ship responsible to seven vessels.
It said it would prosecute if the discharge was found to be illegal.
Speaking on behalf of the agency, Katie Ware, UK representative to the International Maritime Organisation, said: "The MCA counter-pollution team has identified an area and a time-slot when we think that this discharge was made.
"We have identified a possible 62 ships that transited the area at that time and we've managed to narrow the number down to a possible seven ships which could have caused the discharge."
Ms Ware said the MCA was currently working with its oversees counterparts and the investigation was ongoing.
She added: "We don't know if this was a legal or illegal discharge, but if it was illegal the MCA will prosecute the offender."
The RSPB, RSPCA and local wildlife charities described it as "one of the worst UK marine pollution incidents".
About 20 species have washed up covered in the substance on beaches in Devon, Cornwall and Dorset since February.
The RSPB said the death toll has exceeded the number affected by the MSC Napoli beaching off Devon in 2007.
PIB, a lubricant used to improve engine performance, can be legally discharged when ships wash out their tanks.
Wildlife charities want international action to stop the chemical, which does not break up easily, being discharged into the sea.
Last month transport minister Stephen Hammond said discharges by chemical tankers were being investigated by the UK and other European countries and the results would be passed to the International Maritime Organisation (IMO).