UKIP selects leader of the opposition in Norfolk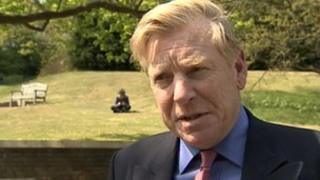 The UK Independence Party does not have many household names in the east of England but Richard "Toby" Coke could soon become one of them.
The former Scots Guardsman is now member for Gayton and Nar Valley, one of 14 new UKIP councillors on Norfolk County Council.
Over the weekend he was chosen as the party's group leader and because UKIP did so well in Norfolk's local elections that also makes him leader of the opposition.
"It's going to be a very steep learning curve but we're up for it," he said.
"All of us who were elected are long-standing UKIP members from all walks of life. We'll be trying to push UKIP's agenda for local referenda, lower council tax and lower business rates."
Mr Coke said apart from "dabbling in parish politics" he had no political affiliations before joining UKIP three years ago.
"UKIP, to me, represents the aspirations of the British people and I see no future for Britain until we're out of Europe. I just don't think the Conservatives get it at the moment."
Mr Coke is now involved in talks with other party leaders ahead of next week's full council meeting, when the new authority leader will be elected. He also has to decide which of the 15 councillors who represent UKIP in Norfolk will shadow the key departments of education, highways and social services.
At the moment he doesn't rule out forming an alliance with another party but points out that UKIP doesn't operate a whip system, so if some of his members don't support a policy they will be allowed to vote against it.
'Good team'
His opponents have questioned whether UKIP will be able to cope with the demands of opposition and be able to make constructive suggestions. He thinks it will.
"I think we are a good team. We're not there just to disrupt the whole thing for the sake of disruption. We've got to co-operate with other parties but we will also want to see changes."
Cambridgeshire, Essex, Suffolk and particularly Norfolk, each have a sizeable number of UKIP councillors on the local county councils. A third of all the seats the party won nationally in last week's county council elections were gains made in the East.
As leader of the opposition in Norfolk, a lot of people will be watching Mr Coke to see if he can make his new councillors rise to the challenge. If he does, we could be hearing a lot more about him and them in the years to come.