London landfill waste to be burnt near Bristol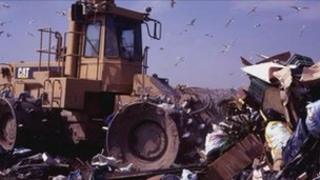 Landfill waste from six west London boroughs could be burnt near Bristol by the end of 2016.
Sita UK will build an incinerator at Severnside in the autumn with money from a 25-year contract to burn 300,000 tonnes of London waste a year.
Gary Hopkins, a Liberal Democrat councillor in Knowle, said the plans went against the idea of localism.
But Sita's planning manager Gareth Phillips said it would create jobs and regenerate a brownfield site.
South Gloucestershire Council had turned down plans for the Severnside Energy Recovery Centre, but Sita appealed against the decision.
Communities Secretary Eric Pickles has now said it can go ahead.
The plant is set to open in 2016 with rubbish transported to Severnside by rail and burnt, generating electricity for the National Grid.
The waste will come from Brent, Ealing, Harrow, Hillingdon, Hounslow and Richmond upon Thames.
Mr Hopkins said: "We should not be having waste shipped in with all the extra transport that involves.
"We should be allowed to make our own decisions as to what we want in our area."
'Attractive option'
Mr Phillips said the plant would create around 200 jobs during the construction phase and 53 permanent jobs.
He said: "There's a lot of heavy industry that has closed down in the Avonmouth and Severnside area, and this is bringing back modern technology and modern engineering, and creating jobs where those jobs have been lost previously."
The incinerator will be built near the Seabank Power Station and the former Terra Nitrogen Works.
West London Waste authority said: "We have spent two years looking in detail at a variety of options for processing waste at sites in and around London and at other parts of the country.
"The site at Avonmouth has lots of factors in its favour that make it an attractive option particularly as all waste can be transported directly to the site by rail."
A spokesman for the Mayor of London said: "The mayor considers waste a valuable resource and has a target for all of London's waste to be managed within the capital.
"However, it is the responsibility of individual councils to manage waste and he is working closely with them, waste authorities and the London Waste and Recycling Board to develop London's waste and recycling industry."