Sgt Danny Nightingale recommended for discharge from army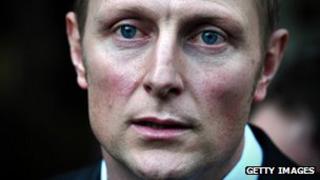 An SAS sniper charged with illegally possessing a pistol and ammunition has been recommended for discharge from the British Army.
The Medical Board of the British Army said Sgt Danny Nightingale should be discharged on medical grounds after suffering brain damage in 2009.
A judge ordered the retrial of the 38-year-old from Crewe, on Wednesday.
His military detention sentence had been overturned at the Court of Appeal in March.
At his court martial in November, Sgt Nightingale was convicted of illegally possessing a 9mm Glock pistol and 300 rounds of ammunition, found in Hereford by West Mercia Police in 2011.
Conviction quashed
He was sentenced to military detention last year at the Military Corrective Training Centre in Colchester, Essex.
Sgt Nightingale had his sentence reduced and then had his conviction quashed by Court of Appeal judges.
His retrial is expected to start on 1 July.
At the hearing on Wednesday, the sniper pleaded not guilty to illegally possessing the pistol and ammunition.
His lawyer Simon McKay said the medical board had recommended the soldier should be discharged as a result of serious brain damage caused following his collapse while on a charity run in the Amazon jungle four years ago.
'Cases assessed individually'
In a statement, Sgt Nightingale said he was "devastated" his SAS service could come to an end, but recognised the brain injury meant he could no longer carry out his normal duties.
A Ministry of Defence spokesman said they could not comment on individual cases and would not confirm information which was "medical in confidence".
However, they said that in "most cases", after the medical board had made a recommendation it was considered by the Army Personnel centre in Glasgow before a final decision was taken.
"Every case is assessed individually. No-one who is wounded, injured, or sick will leave the Army until they have reached a point in their recovery where it is right for them to leave," he said.