Kadian Harding inquest: Coroner raises bike safety concerns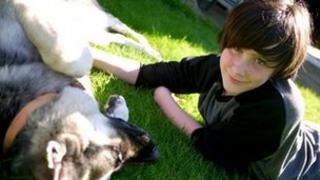 The coroner for Wiltshire and Swindon is to ask accident prevention charity Rospa to highlight the need for brake safety on bicycles after a boy's death.
David Ridley made his comments at the hearing into the death of 14-year-old Kadian Harding who was hit by a van in July last year.
The front brake failed as Kadian, from Steep, Hampshire, cycled down a hill near Marlborough.
Mr Ridley recorded a narrative verdict at the inquest in Salisbury.
He said he would contact the Royal Society for the Prevention of Accidents detailing the "lessons learned" to see if anything can be done to raise the awareness of getting a bike checked before it is first ridden.
Summing up at the inquest Mr Ridley said the front brake suffered a "complete catastrophic failure" due to the pinch bolt "more likely than not being sufficiently tight" and causing the cantilever not to function at all.
'Perfectly safe'
Kadian had been out on a bike ride with his family on the day he died.
He was riding down a steep path with five other people, including his father and aunt, when he was unable to stop as he approached the busy A4.
During two days of evidence, the inquest heard the teenager had taken the bicycle to a shop close to his home in Hampshire on at least two occasions in the weeks before his death.
On the day he died, Kadian had taken the bicycle to a shop in Marlborough, having been told to get the brakes checked by his father.
Mr Thomas Harding, an experienced cyclist, told the hearing: "I specifically said 'we are really concerned about the brakes. You must get the front and back brakes looked at.'
"He said they looked over all the brakes and replaced a cable. I didn't have a go [on the bike] but I did try both front and back brakes.
"I noticed they were much firmer."
Philip Birkett, owner of Acceler8, said Kadian had asked him to look at the gears and the rear brakes.
"I stand by my work and everything I did was correct. When that bike left the shop it was in a perfectly safe condition," he said.