Fen Blow phenomenon: Farmers count cost of 'perfect storm'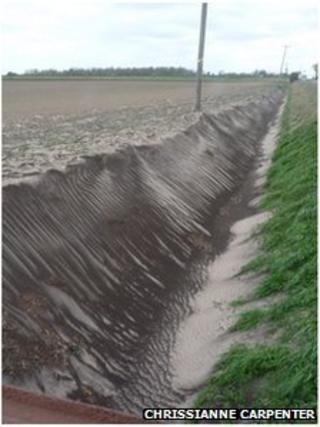 A weather phenomenon known as the Fen Blow has caused damage to spring crops, farmers in the east have said.
Top soil was whipped off fields during high winds in mid-April, reducing visibility and causing problems for drivers.
However, crop consultant Martyn Cox said "cover crops" were also damaged, leaving plants below with no protection should the wind blow up again.
He described it as "the perfect storm", "hammering" some sugar beet and wheat.
Mr Cox, an agronomist from Cambridgeshire, regularly visits farmers in the region to advise on crop health.
"The Fen Blow knocked about a lot of crops and has disrupted people's cropping plans," he said.
"It's caused a lot of damage, blowing seeds around and filling ditches with soil."
'Fed-up farmers'
Forecasters said gusts reached speeds of 55mph (88kph) earlier in the month.
Andrew Blenkiron, director of the Euston Estate Farm in Suffolk, said 5% of its sugar beet crop had been lost, and they were assessing damage to a further 5%.
"We have re-drilled some, but it's cost us about £3,000 and the crop will be six weeks late.
"The wind was blowing sand particles at such a rate it cut right through the young shoots. I've never seen it as bad as this."
Brian Rutterford, who farms on the Norfolk/Suffolk border, said: "It was quite a major blow.
"We planted winter barley as a cover crop for leeks and sugar beet, but it was badly damaged.
"If we get more of the same weather, there will be nothing there to stop the new plants being wrecked."
Mr Cox added: "On top of the cold and wet, we got this warm period, when the wind blew ferociously. It was like the end to the perfect storm - one thing on top of another.
"Without cover plants to protect new crops, if the wind blows up again it's going to be a real swine."