'Citizen scientists' uncover North Sea life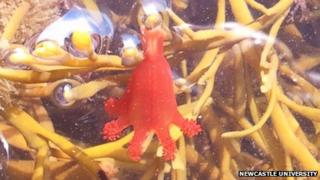 "Aggressive" invertebrates and rare jellyfish were among species identified by volunteers taking part in a research project along the North East coast.
The Big Sea Survey was launched in 2010 by Newcastle University to record flora and fauna along a 150-mile stretch of coastline from St Abbs to Saltburn.
Its "citizen scientists" logged common species, and also found creatures previously undetected in the area.
The project leader said the findings had far exceeded initial expectations.
More than 350 members of the public volunteered to take part in the study, which involved training in identifying species and conducting surveys.
Dr Heather Sugden from the project said: "One of the most exciting finds was a population of stalked jellyfish.
"Before now we have spotted the odd one along our coast but they have always been considered to be extremely rare.
'Quite aggressive'
"However, this survey threw up a population of 190 of them living off the coast at Beadnell."
The team also recorded an invasive species of marine invertebrate filter feeder.
"This is a type of sea squirt and can potentially be very damaging," Dr Sugden said.
"It's quite an aggressive species that tends to smother things, such as sinking lobster pots, so it's one to keep an eye on and we wouldn't have known it was there without this project.
"This is the first time it has been recorded in open natural habitats in the region."