Birmingham New Street station: Concourse opened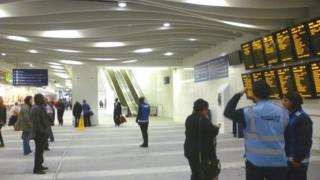 A new concourse has opened to passengers as part of a £600m redevelopment of New Street station.
Three new entrances, at Stephenson Street, Hill Street and escalators from the Pallasades shopping centre, opened at Birmingham's main station.
Cars are now using a new entrance off Hill Street, instead of entering via Smallbrook Queensway.
The changes have allowed the old station and its existing entrances to close for redevelopment.
When the station revamp is completed in 2015, the concourse will be three-and-a-half times bigger than the one it has replaced.
'Key milestone'
The completion of the project will leave the station with more than 30 new escalators and 15 new public lifts, of which about half of these opened on Sunday.
The Navigation Street footbridge has closed, so passengers using the Stephenson Street entrance are accessing the platforms via the new concourse instead.
People travelling from Moor Street station and pedestrians on Smallbrook Queensway are now able to reach the new concourse via the new Moor Street pedestrian walkway, which links the east side of the station to the new entrance on Stephenson Street.
The station taxi rank has temporarily moved to Navigation Street.
Passenger Andrew Shelton, 21, a student at the University of Birmingham who often uses the station, said the new concourse was looking "pretty swanky".
He said: "It looks a lot nicer. It gives a better impression of Birmingham when you arrive.
"It's funny watching people looking a little confused. But the marshals were pointing the direction to go."
Josephine Robinson, 20, from Derby, who was stopping off in Birmingham on the way to Shrewsbury, said: "It looks really good - clean and simple.
"It's brighter than what it used to be."
But Eilona Savage, 27, from Erdington, Birmingham, said: "To me it seemed like anywhere else - boring.
"It's got no character, but it isn't finished."
City council leader Sir Albert Bore said: "It has been a tremendous feat of engineering and logistics to keep one half of New Street station operating pretty much as normal for passengers travelling in and out of the city."