East of England Ambulance: Patient deaths discussed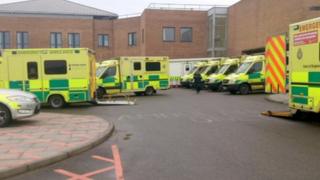 Four adults and a child died in cases where delays or problems with ambulance response were a possible factor, a trust meeting has heard.
The East of England Ambulance NHS Trust discussed the deaths in a private session of its regular monthly meeting to protect patient confidentiality.
All five deaths were in March and were patients with heart conditions.
The quality report also discussed 1,175 complaints that had been received during 2012-13 mainly about delays.
There were nine serious incidents in March and the report said: "Five of the nine serious incidents are known to have involved a patient death.
"But it is important to consider this in the context that we may not have been the causative factor for these deaths but have a part to play in the investigation of such.
"The risk team is trying to establish the outcome for patients involved in the three other patient-related incidents.
'Improve care quality'
"Delay incidents are still the highest type of serious incidents and clinical assessment incidents are the second highest type reported."
The report said 58% of justified complaints about the East of England Ambulance Service concerned delays in the arrival of crews, 17% were about clinical care, 15% were over staff attitudes and 5% about emergency call handling.
"During the whole of 2012/13 the trust received 1,175 complaints compared to 687 during the previous 12 months (equating to a 71% increase)," the report said.
A trust spokesman said: "Clinical matters are discussed in private usually because of issues such as patient confidentiality but our public papers give more detail than ever before because we want to be as transparent we can.
"In the case of serious incidents we're not at liberty to give any more information on individual cases or their exact geographical location because of the potential risk of identifying the people concerned.
"However, the ultimate aim of reporting incidents and serious incidents is so that the trust can learn from what has happened and improve the quality of the care we provide, through preventing similar incidents happening again."
A learning group analyses trends and themes to identify issues that require action and improvement.
The spokesman said: "Patient safety is extremely high on the trust's agenda."
The East of England Ambulance NHS Trust covers Bedfordshire, Cambridgeshire, Essex, Hertfordshire, Norfolk and Suffolk.