Charlotte Blackman landslide death: Woman's charity run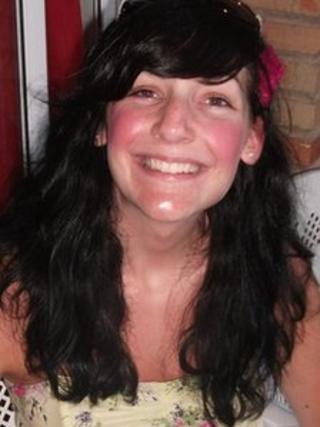 A relative of a young Derbyshire woman killed in a landslide on a Dorset beach is raising money in her memory by doing a 10km run.
Charlotte Blackman, 22, was crushed by rocks as she walked along Hive Beach, Burton Bradstock, in July.
The Charlotte Blackman Memorial Fund raises money for charities supporting autistic and vulnerable children.
Vickie Butler, the sister of Miss Blackman's fiancé Matt Carnell, will run the Derby 10K on Sunday.
Ms Butler was on another beach in Dorset when she received a phone call saying Charlotte had been involved in an accident.
'Dreadful' wait
"I never dreamt what we would see when we got there," she said.
"I spoke to my brother who you can imagine was in a state. He wasn't making much sense. He just kept saying: 'She's under lots of rocks'."
Ms Butler was still on the beach when Miss Blackman's body was found, after a 10-hour search.
She said the wait was "dreadful".
Miss Blackman completed a first-class honours degree in education studies shortly before she died, and had spent much of her spare time caring for autistic children.
"She wanted to work with children, especially special needs children, she was just a natural with them," said Ms Butler.