Wallace Hartley: Titanic bandmaster letter sells for £93,000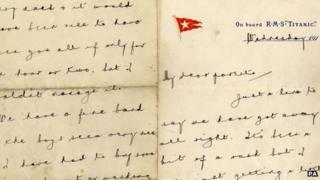 A letter written by the bandmaster of the Titanic who played on as the doomed ship sank has sold for £93,000.
Wallace Hartley, 33, from Colne in Lancashire, is famous for playing on with his band in an effort to keep the stricken vessel's passengers calm.
The letter to his parents sent on the day the Titanic set sail on its maiden voyage from Southampton was auctioned at Henry Aldridge and Son in Wiltshire.
Experts had expected it to make between £50,000 and £60,000.
The letter is written on official White Star Line notepaper and bears the printed heading "On board RMS Titanic".
'Incredible price'
In it, the musician describes the Titanic as "a fine ship" and his fellow musicians as "a fine band".
He also writes that he "missed coming home very much & it would have been nice to have seen you all if only for an hour or two".
Auctioneer Andrew Aldridge said he was "unaware of any other surviving letter written by Hartley on board the ship".
"This letter mentions the band and alludes to the wealth on board the ship - implying that some of it would make its way to the band in the form of gratuities."
He said the letter, which was bought by an anonymous Titanic collector, had sold for an "incredible" price.
The Titanic luxury passenger liner left Southampton on 10 April 1912 on the start of a journey that ended in tragedy days later in the cold North Atlantic. More than 1,500 lives were lost.