Seabird oil deaths: Tanker probe taking place, UK government says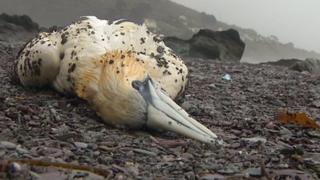 Discharges by chemical tankers are being investigated after hundreds of dead birds washed up along the south coast, the transport minister has said.
Seabirds have been left covered in oil additive polyisobutene (PIB) in two major incidents this year.
Dorset South MP Richard Drax wrote to transport minister Stephen Hammond calling for tighter controls.
Mr Hammond said the inquiry's results would be passed to the International Maritime Organisation (IMO).
Member states need to submit findings to the IMO showing evidence that PIB should be reclassified.
'Madness'
The RSPB said more than 1,000 birds had been affected in Devon and Cornwall since 10 April, while hundreds were found covered in the substance, mainly in Dorset, in February.
And Dorset Wildlife Trust said nearly 60 birds were found covered in the substance at Chesil Cove on Friday morning.
The Devon Wildlife Trust said it was asking people to join an emergency seabird survey to check public beaches so it could establish a more accurate picture of the scale of the problem.
In his letter, Mr Hammond said a number of other European countries were also looking into discharges from ships.
Currently, PIB - used by ships to make their engines work more efficiently - can be released legally under certain conditions.
The RSPB has called for discharges to be outlawed while Mr Drax said the situation was "madness".
Mr Hammond wrote: "As to whether the current arrangements for the carriage of PIBs are adequate, a number of European countries, including the UK, are currently investigating the discharge of high viscosity products by chemical tankers and the resulting residues washing up on beaches.
"The result of this will be submitted to the IMO for consideration of whether any changes need to be made to the existing requirements."
Children have also called for ships to stop dumping PIB into the sea.
Teachers at Fourlanesend Primary School in south-east Cornwall said pupils had been inspired to start a campaign to raise awareness of the situation, and were writing to local MPs and the government to ask for such dumping to be made illegal.
Their letters invite the recipients to "come down to the beach to understand the situation", which they said they were finding "upsetting".
The Maritime and Coastguard Agency said it was trying to determine the source of the latest incident but ended inquiries into the first discharge, admitting it was "highly unlikely" the ship could be found.