Fen Blow phenomenon: High winds and loose soil halt traffic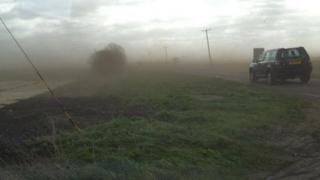 High winds have caused problems for drivers across parts of East Anglia after top soil was whipped off fields and into the path of vehicles.
The phenomenon, known as the Fen Blow, has been seen in Cambridgeshire, Norfolk and Lincolnshire.
One motorist said several vehicles had to pull over and described it as "like driving through Marmite".
Forecasters said gusts had reached speeds of 55mph (88kph) and police have warned drivers to take care.
Chris Bell, a weather analyst for Weatherquest, said the region had experienced some "pretty good gusts" on top of the average wind speed of 30mph (58kph).
'Dust storm'
"The Fen Blow is a term used for a phenomenon across the Fens, where there's so much flat land you can really see soil and dust being blown about," he said.
"It can be really picturesque if you're out there taking photos."
However, motorist Trevor Williamson said his journey from Peterborough to Cambridge was disrupted when several vehicles had to pull over because of poor visibility.
"You could barely see anything and it really was like driving through Marmite. I've never seen anything like it before," he said.
Sam Edwards, who lives in Market Deeping in Lincolnshire, said winds across the High Street had almost knocked him over and a resident from Welney, in Norfolk, described the area as a "dust storm".
Norfolk Police confirmed they had received several reports of soil and dust being blown across roads in the county and advised drivers to slow down and drive according to the conditions.