'Sticky' birds death agent 'should be reclassified'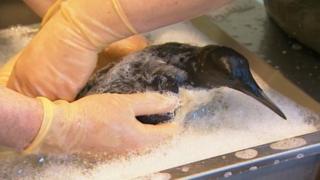 A substance that caused the deaths of hundreds of birds should be reclassified, a scientist has said.
Prof Steven Rowland from Plymouth University confirmed the sticky matter - which also affected hundreds of birds in February - was polyisobutene (PIB). It is commonly used by ships.
More than 350 birds have washed up dead since Wednesday, the RSPB said.
The charity has also called for PIB to be reclassified and discharges of the substance to be outlawed.
Prof Rowland said tests on the birds collected from Seaton, Teignmouth and Mevagissey all contained PIB, the same substance found in birds analysed in February, when more than 300 were rescued.
The sticky substance, which has covered hundreds of birds found on beaches in Devon and Cornwall, is used by ships to make their engines work more efficiently and can be released legally under certain conditions.
'Unforgiveable'
Prof Rowland told BBC News that being able to discharge the material into the sea was "just unforgiveable".
"Essentially a small amount of this material in the sea will pollute a lot of birds," he said.
He also said the substance appeared to be from the same spill - or a least from the same manufacturer - and he would "absolutely support" a reclassification of it.
Since Wednesday, more than 170 birds have been taken to the RSPCA's centre at West Hatch, near Taunton, but 58 have died.
Peter Venn, manager of the West Hatch centre, said: "It was bad enough seeing so many birds come to us in such a terrible state last time - but for it to happen again and so soon is devastating.
"It makes you wonder whether it could keep on happening unless a serious effort is made to look into where these spills are coming from and how they can be stopped.
"A proper investigation is needed to stop this happening again and again, or else our wildlife are likely to go on suffering and dying."
The MCA said: "We are liaising with partner agencies to find out the extent of the problem and, if at all possible, to determine the source."
In a separate incident, 10 dead birds covered in tar have washed up on Bantham Beach, said the South Devon Seabird Trust.
Jean Bradford, from the organisation, said the guillemots were found on Tuesday and it was "very worrying".
She said: "There could be more birds involved out at sea or on some of the remote beaches."
It is not yet known where the tar has come from or how many birds have died or been injured.