More 'sticky substance' birds 'dying at sea'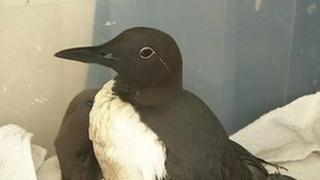 Many birds covered in a "sticky substance" are likely to be dying at sea, an animal charity says.
More than 90 birds, mostly guillemots, have washed up on the coast of Devon and Cornwall over the past few days.
They have been collected on beaches from Mevagissey in Cornwall to Kingsbridge in Devon.
The RSPCA said that, although high spring tides and strong winds had brought them ashore, it was likely "more are dying out in the Channel".
The cause of the pollution has not been identified, but the birds are believed to have been covered in the same substance that affected hundreds earlier in the year.
In February, more than 300 birds, mainly guillemots and some razorbills, were taken in by the RSPCA after being found covered in glue-like polyisobutene.
Those birds were found in Dorset, Cornwall, Hampshire and Sussex.
At the time, the Maritime and Coastguard Agency (MCA) said it was a "fairly common chemical" carried aboard ships which was produced in a large number of countries.
On Friday, the MCA said a number of European countries, including the UK, were investigating the discharge of high-viscosity products by chemical tankers and the resulting residues that wash up on beaches.
The birds found this week are being taken to an RSPCA centre in Taunton, Somerset. The charity said that several have had to be put down.