Kate Bush awarded CBE by the Queen at Windsor Castle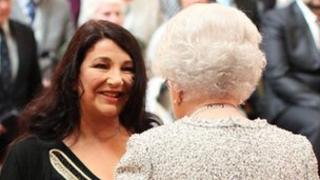 Kate Bush has received her CBE for services to music from the Queen at an investiture ceremony at Windsor Castle.
The singer-songwriter, who was catapulted to fame in 1978 when Wuthering Heights topped the charts, said she was "incredibly thrilled".
The 54-year-old dedicated the award to her family and joked that it would have pride of place at the top of her Christmas tree.
She has released 10 studio albums in a career spanning nearly 40 years.
Bush, whose other hits include Running Up That Hill and Babooshka, has won both Brit and Ivor Novello awards.
The artist, from Abingdon, Oxfordshire, has also recorded collaborations with some of the most prominent names in music, including Sir Elton John, Eric Clapton, Peter Gabriel and Prince.
'Thrilled'
But she has toured only once, in 1979, and rarely makes public appearances or gives interviews.
She declined to speak directly to journalists who gathered at Windsor Castle for the ceremony, but did release a brief statement.
"I feel incredibly thrilled to receive this honour which I share with my family, friends and fellow musicians and everybody who has been such an important part of it all," she said.
"Now I've got something special to put on top of the Christmas tree."
The first British women ever to win Olympic gold for rowing and their coach have also been honoured at the same ceremony.
Helen Glover and Heather Stanning triumphed in the coxless pairs to win Team GB's first gold medal of the 2012 Olympics, and received MBEs together with trainer Robin Williams.
Peter Charles, who won gold in the team showjumping event at London 2012 and cyclist Dani King, who won gold in the team pursuit event, have also received MBEs.