DNA pioneer Francis Crick letter sells for $5.3m at New York auction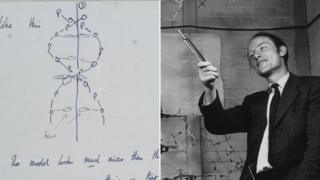 A letter written by scientist Francis Crick describing his discovery of the double helix shape of DNA has been sold for $5.3m (£3.45m).
An anonymous buyer purchased it at a New York auction on Wednesday.
Crick wrote to his 12-year-old son Michael in March 1953 describing the discovery and including a sketch.
The Nobel Prize medal given to Crick for the breakthrough is expected to fetch between $500,000 (£325,000) and "several million" at auction later.
Professor Crick, who died aged 88 in 2004, helped discover the "secret of life" at Cambridge University in 1953.
'Stained lab coat'
In the seven-page letter Crick told how he and James Watson found the copying mechanism "by which life comes from life".
It was written more than a month before the pair officially published their work.
The letter began: "My dear Michael, Jim Watson and I have probably made a most important discovery.
"We have built a model for des-oxy-ribose-nucleic-acid (read carefully) called DNA for short."
He described it as a "beautiful" structure and included a sketch of it, underneath which he wrote: "The model looks much nicer than this."
The letter concluded: "Read this carefully so that you will understand it. When you come home we will show you the model.
"Lots of love, Daddy.''
The letter was expected to fetch about $1m (£652,000), a spokesman for Christie's said.
It was a record for a letter sold at auction, he added.
Crick, along with James Watson and Maurice Wilkins, was given the 1962 Nobel Prize for Physiology or Medicine for "discoveries concerning the molecular structure of nucleic acids and its significance for information transfer in living material".
The medal will be sold later at Heritage Auctions in New York together with the cheque and diploma Crick received as part of the prize and one of his lab coats, which has "various stains on it".
His family will donate 20% of the profit to researchers at the Francis Crick Institute in London.
The scientist's granddaughter, Kindra Crick, said the medal had been locked away for most of the time since it was awarded.
She said: "This marks the 60th anniversary of the historic discovery of the structure of DNA and 50 years have passed since Francis Crick was awarded the Nobel Prize.
"Our hope is that, by having it available for display, it can be an inspiration to the next generation of scientists."
Crick was born in 1916 in Weston Favell near Northampton and educated at Northampton Grammar School. The twice-married scientist died in July 2004 in San Diego.
Rosalind Franklin also played a key role in the discovery of DNA but died in 1958, before the prize was awarded.