Ipswich docks death: 'Poor planning' blamed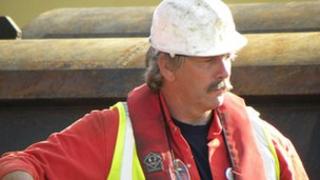 A court has heard that a lorry's stabilising legs were not extended when it tipped over, dropping a pontoon which killed an Ipswich dock worker.
Neville Wightman, who was 52, died as the lorry was being unloaded at Cliff Quay in 2011.
The lorry's Clacton-based owner, Paul Napier, 48, denied a charge of manslaughter at Ipswich Crown Court.
The prosecution's case claimed that gross negligence amounted to manslaughter.
The lorry and its crane had been unloading six pontoons on Friday, 16 December so that a boat could be brought onto it by Ipswich company Red Seven Marine for delivery to the Olympic site in London.
Mr Wightman, who worked for Red Seven, died at the scene after his pelvis area was crushed by a pontoon.
Delivery delay
His colleague, Stephen Burden, was also injured but survived.
William Carter, prosecuting counsel, said there had been "poor planning and a poor operating process" and that "Mr Napier had responsibility for the safe operation of the lift".
Mr Carter said the lorry's rating capacity limiter, which measures lifting operations, and its emergency stop buttons were not working.
The court heard the lorry picked up the pontoons from Saxilby in Lincolnshire and they were supposed to be being delivered to their owner, Floating Work Solutions of Frinton in Essex.
Traffic problems had led to delays and the plan was changed to leave the pontoons in Ipswich, so that the boat could be picked up and delivered first.
Mr Carter said: "In the wind and the rain, [Mr Napier] simply rushed."
The owner of the pontoons, Andy Simmons of Floating Work Solutions, told the court he had used Mr Napier's services for five or six years and had always seen him use the lorry's stabilisers.
"I've never had any grounds to feel unsafe," he said.
The court heard that the stabilisers had been used when the pontoons were collected in Lincolnshire.
Mr Napier pleaded guilty to a separate charge of a breach of health and safety law.
The trial continues.