SAS man Nigel Ely hopes for Saddam Hussein statue deal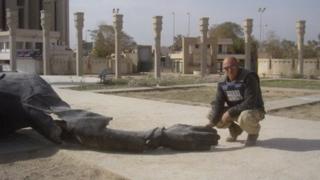 Exactly 10 years after the statue of Saddam Hussein was toppled in Baghdad's main square, a former SAS soldier still hopes to raise money through selling a piece of the figure.
Scenes of jubilation as the towering statue was pulled down were shown around the world on 9 April, 2003, and symbolised the end of Saddam's 24-year reign.
Crowds severed the head of the fallen effigy, while around the capital other statues and pictures of the former leader were torn down.
Nigel Ely, 53, a former paratrooper who served in the 1990-91 Gulf War, was in Baghdad's Firdous Square, the day after the incident where the statue was "surrounded by tanks".
Military charities
Working as a photojournalist, he introduced himself as an ex-soldier to US marines guarding the relic and asked if he could take a piece of it.
"They said 'Yea, buddy" and I hacked off a piece with the help of the US marines," he said.
Using a sledgehammer and chisel, Mr Ely worked through the thick bronze, ending up with a 2ft (0.6m) chunk of statue depicting the ex-leader's buttock.
Mr Ely, who went on to do private security work in Iraq for several years, said there was a strange atmosphere in Baghdad after the statue was toppled.
"There were big celebrations but shooting was still going on," he said. "You knew it was just the beginning there.
"Apart from hearing gunfire, you just smelt trouble in the air."
Mr Ely has since turned the chunk of statue into a piece of war relic art he hopes to sell to raise money for military charities and groups, including Birmingham's Royal Centre for Defence Medicine which treats wounded soldiers.
He has founded a firm called Trebletap which specialises in making art from war relics.
But the relic failed to meet its reserve of £250,000 at a Derby auction in October, 2011.
'Cultural heritage'
And the plan ran into further difficulty last year when Mr Ely and a director of Trebletap were questioned by Derbyshire Police over the statue.
The force said it had received a complaint from the Iraqi government which wanted the piece returned as it was "part of their historical and cultural heritage".
The men were questioned on suspicion of breaching Section 8 of the Iraqi Sanctions Order 2003, but police later said no charges would be brought.
The force had also raised doubts about the piece of statue's "authenticity".
Mr Ely insists he had been give the piece by US marines who were in control of Baghdad.
He added he was still not allowed to sell the piece and had been trying to sort out the matter with the Iraqi authorities, through different contacts, but said it was to no avail.
"Everyone is running scared of it. Maybe they just don't want to be associated with it [the statue]" he said.
The former SAS man said he hoped he could reach "a deal" with Iraqi authorities so the artwork could be sold to raise money for charity.
Mr Ely believes the piece is "extremely valuable" and said an art expert at an Islamic Art Fair he recently attended in Kuwait suggested it could even be worth millions of dollars.