Lake District name claim by South Norwood tourist group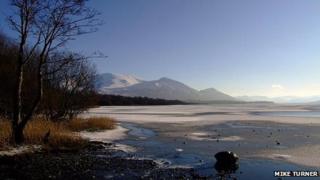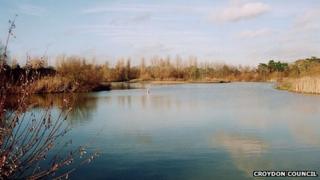 When is a lake not a lake?
This question is the basis of an unlikely demand being made by a group of people from south London.
South Norwood Tourist Board (SNTB), run by four friends, has pointed out that only one of Cumbria's lakes is actually a lake, and the rest are meres, tarns or waters.
In an email to the county's tourist board, Cumbria Tourism, it says it has a greater claim to the label "Lake District" since it has two lakes.
Ian Bone, from SNTB, is adamant they are completely serious about their demand Cumbria stop using the label "Lake District" so South Norwood - which is part of Croydon - can use it instead.
"People are astounded to discover the Lake District only has one lake," he said.
He said tourists had historically been misled and the area's attractions were overrated.
"To be honest, if it's raining there's nothing to do," he said.
"It's a bit gloomy and, if you've got kids with you, once they've seen one lake they've seen them all."
'Delights of Croydon'
Cumbria Tourism said it was not taking the demand too seriously and had not considered dropping the label.
Managing director Ian Stephens said: "Until I see any further notices or instructions from their solicitors I can't be too worried about it."
He suggested a possible cultural exchange "to go down and understand the delights of Croydon".
"I'm sure the ponds of South Norwood have their merits and it is flattering that they wish to emulate our natural environment, albeit in a modest way."
Mr Bone's desire to have South Norwood's "delights" recognised was the starting point for SNTB.
He and three friends noticed a photograph of Arthur Conan Doyle in a local pub and, thinking it sad the area was not more celebrated for the famous connection, set up a small group to rectify matters.
They are also proud to live in the home town of Pickles the dog and a ground-breaking subway.
"Where else in the world would you celebrate the dog that found the World Cup and the world's first reinforced concrete tunnel?" he laughed.
'The same thing'
Cumbrian angler and environmentalist Eric Hope said tarns, meres and lakes are all just local names with their roots in a mix of Cumbric, Old English, Old Norse and modern English.
"What we're looking at is centuries of people using different names for the same thing.
"The Lake District is steeped in tradition. There's a huge difference between Cumbria and Croydon and it's not just in the spelling."
Residents of Cumbria have long corrected the erroneous use of Lake Windermere or Lake Ullswater - pointing out quite rightly that it says the same thing twice.
A glance in the dictionary might be helpful. Both the Oxford English and the Collins define meres and tarns as lakes.
By that account, Cumbria can claim anywhere up to 80 lakes.