Yorkshire Ambulance Service workers hold 24-hour strike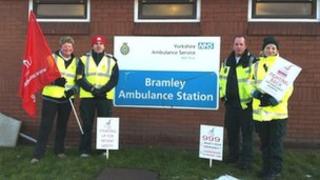 About 450 ambulance workers in Yorkshire have taken part in a 24-hour strike in a row over staffing changes.
The dispute centres on plans to introduce emergency care assistants to work with Yorkshire Ambulance Service's more highly-trained paramedics.
The Unite union, which represents about 10% of the service's workforce, claims the move would jeopardise patient care.
Yorkshire Ambulance Service has said it is trying to maintain care levels while making £46m savings in five years.
The Yorkshire Ambulance Service NHS Trust said "the vast majority" of staff had worked normally and contingency plans had proved effective.
Ambulance workers who are Unite members launched an overtime ban last week after voting in favour of industrial action in March.
Of the 212 union members who voted in the ballot, 61% were in favour of strikes and 83% for other forms of industrial action.
Terry Cunliffe, Unite regional organiser, said there was nothing more important than patient safety.
"We believe these management proposals are dangerous and our members are prepared to stand up and fight for the public in order to maintain their safety," he said.
'Deeply concerned'
Yorkshire Ambulance Service NHS Trust said the planned changes to the service would enable it to continue to deliver "a high quality and responsive service" to patients.
David Whiting, chief executive of Yorkshire Ambulance Service NHS Trust, said the strike was not in the best interests of patients.
"I am deeply concerned over this type of action, which I believe will be of concern to all of our A&E staff who are very committed to patient care, and will place many of them in a very difficult situation," he said.
The trust had been in contact with Unite over Easter in an effort to ensure the union's members would continue to respond to emergency calls, but no progress had been made, said Mr Whiting.
The trust was committed to minimising the level of disruption to members of the public during the strike, he added.