Hull City and Huddersfield Town ticketing protest peaceful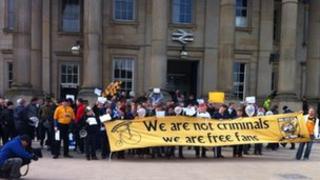 A march has been held in Huddersfield by football fans protesting at policing restrictions for the Huddersfield Town v Hull City game.
Police have limited tickets to the game for Hull fans and made them travel on official coaches to the match.
Fans from Hull, Huddersfield and other teams gathered outside the railway station in Huddersfield for the march.
Chief Supt Tim Kingsman, of West Yorkshire police, thanked the protesters for their conduct.
Police have claimed that starting the Huddersfield v Hull game at 17:20 GMT to enable live TV coverage raised the risk of alcohol-related disorder and additional measure were put in place.
To attend the game Hull City fans must travel to the ground by coach, and are allowed to get on at either Hartshead Moor service station or in Hull.
Tickets have been restricted for Hull City fans allowing only 1,700 in a stand holding about 4,000.
Robert Pepper, of Huddersfield Town Supporters' Association, said he would be at the rally in front of Huddersfield railway station "standing shoulder to shoulder with our fellow fans."
Organisers said 150 people attended the protest but police put the figure at 70.
Chief Supt Tim Kingsman, Divisional Commander of Kirklees Police, said the march was peaceful.
A statement from the Hull City Official Supporters' Club before the protest said: "Please put your anger, resentment, frustrations behind you on the day of the game and ensure the day passes without incident and the good name of the two clubs is reinforced."