Neon Roberts: 'Good progress' of boy in brain tumour case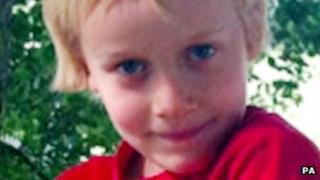 The father of a boy whose mother fought a High Court battle to stop him having radiotherapy for a brain tumour, says his son is making "good progress".
Seven-year-old Neon Roberts has completed his course of radiotherapy and will start chemotherapy next month.
His mother Sally lost her fight to stop him having the treatment fearing it would do him long-term harm.
Neon's father Ben said doctors were "cautiously optimistic about his long-term prognosis".
The case hit the headlines in December 2012 when his mother disappeared with him sparking a police search and leading to a court order allowing him to be named by the media.
Ms Roberts later apologised and said she had panicked.
Mr Justice Bodey was told by specialists that Neon could die within months without radiotherapy for the tumour.
Judgement 'gone awry'
Despite expressing sympathy for the parental "nightmare" facing Ms Roberts, he ordered that the medical procedures could go ahead saying her judgement "had gone awry".
Ms Roberts at one stage described the treatment as "barbaric and plain torture".
But in a statement issued by his legal team, Mr Roberts said Neon had completed radiotherapy and would begin chemotherapy after his birthday next month.
"Of course it has not been easy for him but the doctors are clear that the reaction Neon is showing to the treatment is well within their expectations and it is likely that any side effect will be temporary," they said.
The statement adds: "The surgery itself took a lot out of Neon and he is still dealing with some of the side effects of that treatment.
"Overall, Mr Roberts has not seen a marked change in Neon or side effects beyond what the doctors expected.
"This is what he and his family always hoped for."