East Midlands Airport travellers delayed after cancellations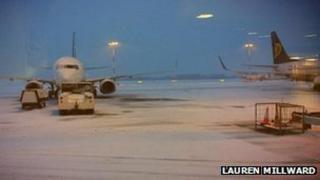 Passengers at East Midlands Airport faced delays for a second day after snow blocked the runway.
On Saturday, up to 12cm (5in) of snow affected the airport, with some passengers being diverted to Manchester and Luton.
Several flights were cancelled on Sunday, including those to Gran Canaria and Palma.
Despite re-opening, the airport is advising passengers to check with their airline before travelling.
Rob Potts and his family, from Leeds, were due to travel with Ryanair to Gran Canaria, but were told their flight had been cancelled.
He said the worst thing was not being given information, or offered any alternatives.
'Washed their hands'
Mr Potts said: "I think Ryanair are just banking on us all just being British, taking it on the chin, stamping our feet - and doing nothing about it.
"There are people here crying - people here who have saved for their holidays and they are being sent off with nothing to look forward to."
He added all Ryanair has told them is to go home and try to book another flight.
"Other operators have transferred their passengers to other airports - but Ryanair have just washed their hands of the situation," he said.
"Ryanair can't do anything about the snow but they can do something about their customer service, there was no-one available to help people.
"My wife and little girl are heartbroken - these are people's lives they are messing with."
Ryanair apology
In a statement Ryanair said: "Due to heavy snowfall, East Midlands Airport was closed from 06:00 GMT to 12:00 GMT.
"As a result, Ryanair was forced to cancel 14 East Midlands flights. Refreshment vouchers were issued following two-hour delays, however, the flights were then cancelled.
"The airport has reopened and Ryanair expects to operate the remaining 20 flights scheduled to/from East Midlands today."
The company has apologised to all passengers affected by cancellations and delays.
A spokesman for East Midlands Airport said; "The adverse weather conditions have presented a difficult operating environment but we have worked hard to get the airfield open and passengers to their destinations today.
"We thank our passengers for their patience and will continue to work in conjunction with our airlines to return to the normal schedule."
EMA has advised passengers to check with their airlines before travelling, or check the live information page.