Garry Walton drowning: Family 'just want justice'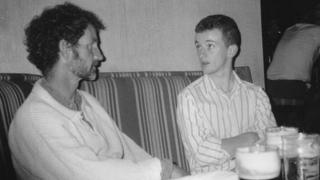 Robert Walton is a grieving father who has been searching for justice for 17 years.
In 1996, his 21-year-old son, Garry, went Tenerife on his first holiday abroad without his parents.
He never came home.
On the last day of the week-long trip, Garry had decided to go on a boat excursion off Playa de Las Americas with more than 40 other young people.
When the boat docked, Garry was missing and several hours later his body was found in the sea by fishermen.
What had happened on that boat? Had Garry, after a few drinks, fallen overboard? Or was he pushed?
These unanswered questions have haunted the Walton family, of County Waterford, Ireland, since the moment a neighbour phoned to break the news Garry was dead.
'Non-existent investigation'
In an interview with BBC Radio Leeds, Mr Walton said he was unsatisfied with the Spanish authorities and had no sense of a resolution, despite a recent trial in Tenerife.
The retired builder is hopeful the public prosecutor in Spain will now take the case to the highest court in Spain.
"It was the investigation that was the hardest thing for us to bear," said Mr Walton, who brought Garry up in his native Leeds until his mid-teens.
"It was non-existent.
"They concluded Garry's death was an accident after a post-mortem in Spain.
"They took five people off the boat and let everyone else go, without taking names and addresses.
"All of this happened before we knew he was dead. We were never notified.
"We had a phone call from a neighbour the next day - that's how we found out."
Body exhumed
Earlier this month, a trial - the first in connection with Garry's death - took place in Tenerife with Darren Sapstead, 38, of Chelmsford, Essex, charged with homicide.
The court in Tenerife heard from two sisters that Mr Sapstead had allegedly thrown Garry overboard and then warned them to keep quiet.
Mr Sapstead denied any involvement and claimed he had tried to help Garry when he fell overboard.
The jury acquitted him.
It left the Waltons, who travelled to Tenerife for the trial, ever more desperate for closure.
They had already been through the pain of having Garry's body exhumed in 1997 for a second post-mortem examination and had pushed for the case to be heard in court.
"The Spanish authorities dismissed Garry's death as an accident, but they've never been able to explain how they arrived at this conclusion," said Mr Walton.
"I don't believe he fell off that boat, I've been on that boat with my lawyer and the Spanish Consul, and it's impossible to fall off it."
The family have spoken to witnesses and claim these people state Garry's death was "definitely not an accident".
They claim he had been "bullied and taunted" throughout the trip by five people.
'Great kid'
Asked how he defines justice, Mr Walton said: "We want to know how he died; we've never been told. It's still in the air after 17 years.
"If it was an accident, and they could prove that, that would be even better.
"It's just never been investigated properly."
He described Garry as a "great kid", who worked hard, loved football and had never been in trouble.
"I have three other children and five grandchildren now, and I have to live for them.
"But I'll never forget what happened to Garry."