Welney Wash Road to get electronic flood signs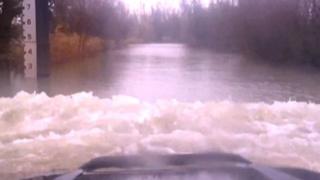 New electronic flood-depth warning signs could be in place by autumn on a fenland road which was closed for 50 days last year because of flooding.
The A1101 Wash Road through Norfolk and Cambridgeshire frequently floods at Welney.
Local people have criticised use of metal road signs which have remained on display even when the road is passable.
Local councils and the Environment Agency have also agreed to look at long-term solutions to the flooding.
Jeana Birch, who runs the Lamb and Flag pub in Welney, said she had lost 60% of her trade this winter and was "struggling to survive".
"The road closure sign is put up before you even reach the pub," she said.
Motorists' decision
"We get days when there's no one in our pub and have had to lay off staff."
Norfolk County Council agreed to spend £20,000 on three electronic signs which alert motorists to the depth of the water and allow them to make decisions on whether to drive through flooding.
Vicky Ford, Eastern region Euro MP was at the meet with the local authorities.
She said: "The new signs we have planned will now show that although the road is closed, the pub is perfectly accessible.
"Longer-term plans discussed included raising the level of the road with pipes underneath to divert flood waters.
"The environmental impact and cost of a plan such as that would have to be carefully looked at."