Dale Cregan 'told doctor he killed four people'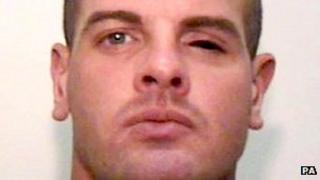 Dale Cregan told a psychiatrist he had killed a father and son and two police officers, a court has heard.
Cregan has previously admitted killing PCs Fiona Bone, 32, and Nicola Hughes, 23, in a gun and grenade attack but denies killing David and Mark Short.
The psychiatrist told Preston Crown Court Cregan made the admissions during interviews while on remand and on one occasion told of his killing fantasies.
Cregan, 29, denies murder, attempted murder and causing an explosion.
Forensic psychiatrist Dr James Collins said that in one conversation Cregan, who is alleged to have used a gun and grenade to kill David Short, had said: "I shot David Short point-blank in the head, three times, but if I had had time I would have cut his head off."
Cregan told the psychiatrist that David Short had threatened to rape his sister and son and threatened his whole family, jurors heard.
The psychiatrist told the court Cregan had said he had had fantasies about killing David Short.
He said Cregan had told him: "I was not really bothered about the others. I just wanted to kill David Short. I couldn't get him out of my head."
Cregan, who told the doctor he began dealing cocaine at 22 and claimed he made £20,000 a week, said the dispute with the Short family was not a turf war over drugs.
Cregan said to the psychiatrist he would get drugs and hand grenades from Holland. He said "as far as he knew" the Short family did not deal drugs, the jury heard.
Dr Collins told the court that Cregan had said to him that after Mark Short's murder, David Short told Cregan he would rape his son and set him on fire.
Quoting Cregan from notes he made of the interviews, Dr Collins said: 'I used to get visions of them killing my son, perhaps by a stray bullet. I was also worried about my mother and brother.
"I thought if I killed David Short I thought all these thoughts would go away."
'Big relief'
The jury was told by Dr Collins that Cregan had said: "He threatened my whole family so I was always going to kill him.
"I knew I would have to do it. It was not an urge - it was because what it was doing to me if I didn't do it."
Cregan told the doctor "a big relief rushed through my body" and he had had the "best sleep of my life" after killing David Short, the court was told.
The court heard Cregan told Dr Collins on the day Mark Short was murdered, that he had drunk 10 bottles of beer in a pub and had taken cocaine.
The psychiatrist told the court that, in their interviews, Cregan had described going into the Cotton Tree Pub and shooting John Short, Michael Belcher - also a member of the Short family - and Mark Short, but David Short was in the toilet when he entered the pub.
The court has been told Cregan went on the run after allegedly murdering Mark Short, 23, in The Cotton Tree Pub, Droylsden, on 25 May and his father David, 46, at home in Clayton, Manchester, 10 weeks later.
Attempted murder charges
He killed the police officers by luring them to an ambush.
Cregan denies that any of his co-defendants were involved in the alleged murders, the doctor told the court.
Leon Atkinson, 35, from Ashton-under-Lyne, Luke Livesey, 27, from Hattersley, Damian Gorman, 38, from Glossop, Ryan Hadfield, 28, from Droylsden, and Matthew James, 33, from Clayton, also deny murdering Mark Short and the attempted murders of three others in the pub at the time.
Accused of the murder of David Short along with Cregan are Francis Dixon, 37, from Stalybridge, Anthony Wilkinson, 38, from Manchester, and Jermaine Ward, 24.
All four are also jointly accused of the attempted murder of Sharon Hark on the same day, and a single charge of causing an explosion.
They all deny the charges.
Mr Wilkinson is also charged with possession of a firearm with intent to endanger life and Mohammed Ali, 32, from Chadderton, is accused of assisting an offender. They deny the charges.
Only Cregan was charged with the murder of the two police officers.
The trial continues.