Cathedral funeral for stabbed teenager Christina Edkins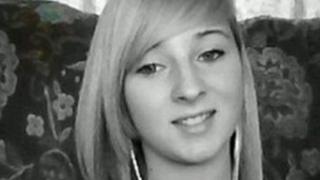 Funeral arrangements for a teenager stabbed on a bus in Birmingham have been announced.
Christina Edkins, aged 16, died on 7 March after being attacked on the number 9 on the Hagley Road as she travelled to school.
A service will be held at St Philip's Cathedral in Birmingham on Friday and will be attended by friends, family and pupils from her school.
A 22-year-old man has been charged with murder and remains in police custody.
The Dean of Birmingham, the Very Reverend Catherine Ogle, said it was "a sad privilege" for the cathedral to conduct the funeral.
She added: "We extend heart-felt sympathy and prayers to her family and friends. This death is very hard to bear and we ask all those who mourn the loss of this lovely and bright young woman to join us in prayer on Friday.
"Our space in the cathedral is limited, and entry to the funeral needs to be restricted."
But she added that wherever people are they could join in prayer "for comfort and peace" for all those affected by Christina's death.
"Birmingham Cathedral stands in the centre of the city as a symbol of the triumph of peace, hope and love and these are the values that really matter at times like these."