Murder accused Stephen Seddon was 'on Manchester drug run'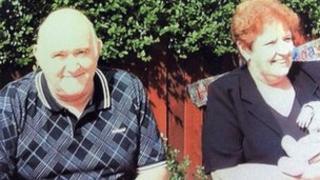 A man accused of killing his parents for a £230,000 inheritance told a jury he was delivering drugs for a criminal gang on the day they were murdered.
Stephen Seddon, 46, drove from his home in Seaham, County Durham, to Carrington, near Manchester, for the delivery, Manchester Crown Court heard.
He is accused of shooting his parents at their Sale home after failing to kill them by driving into a canal.
Mr Seddon denies two counts of murder and two counts of attempted murder.
The defendant told the court he returned straight home following the drugs delivery, without visiting parents Bob, 68, and Patricia, 65, on 4 July last year.
Felt 'big bang'
He said the drugs run was the second he had done for an organised crime group in Darlington, delivering to a counterpart in Manchester.
When he was arrested he made no reference to the drugs run and being in the area because "you don't mention names, it could get you killed", he told the jury.
Mr Seddon also denied claims he deliberately drove into the Bridgewater Canal in Timperley last March, in an attempt to kill his parents as he was desperate to inherit their money.
He said he had taken a short cut along Canal Road on the way to a belated Mother's Day lunch, adding: "I saw headlights coming towards me.
"I think I moved to the left and before I know it the next thing is I'm in the canal.
'Going berserk'
"We hit something. It felt like a big bang. I didn't know whether that was a kerbside or a brick, I don't know."
His dad screamed "we are in the water" and everyone in the car was "going berserk", he told the court.
Mr Seddon told the court he was the first out of the vehicle and used a crook lock to smash open a window before helping to free his father and nephew before firefighters arrived and rescued his mother.
The court was told of a number of his previous convictions.
In 2000, he pleaded guilty to fraudulent trading involving his own company to fund a luxury lifestyle, the court was told, and had since been unable to keep a job.
Mr Seddon admitted the fraud offences led to him living "the high life" but he denied he lived beyond his means.
Peter Wright QC then accused him of laying a false trail by staging the murders to make it look as if his father had shot his mother before killing himself.
The trial continues.