Peterborough solar farm: Energy minister's concerns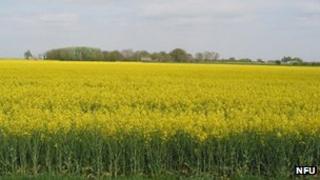 The energy minister has intervened in a row over a solar farm in Cambridgeshire after protesters claimed it was the "wrong thing in the wrong place".
John Hayes said his Lincolnshire constituents opposed Peterborough City Council's plans for a 900-acre (364 hectare) renewable energy park.
The South Holland and The Deepings' MP has written to the council about his "sympathy" with their views.
The council said it needed to find "innovative ways" to generate revenue.
Mr Hayes said: "A delegation of my constituents came to see me and I have a lot of sympathy with them.
"They feel this is the wrong thing in the wrong place.
"The proposed farm is not in my constituency, but it's my job to listen and respond to the concerns of the people I represent.
"They say it will have a profound impact on them, even though it is just across the border."
Farmland sites
Mr Hayes wrote to Peterborough City Council's chief executive Gillian Beasley.
In a statement the council said funding from central government was "significantly cut year-on-year" so the council was looking at "innovative ways to generate revenue to offset the declining income while protecting the front-line services".
It also denied the proposals had been "rushed through" and said "extensive landscaping" would help mitigate its visual impact.
The council wants to build solar and wind parks at three sites it owns outside the city, near Newborough.
A solar-only park is estimated by the council to provide it with an income of £30m over 25 years, while it estimates a joint wind and solar park would generate £100m over 25 years.
The plan faces criticism from the National Farmers' Union, city council tenant farmers and local campaign groups.
The proposals were expected to go before the council's planning committee this month, but are currently on hold while archaeological surveys are carried out on the land.