Missed hospital appointments 'cost east of England NHS £42m'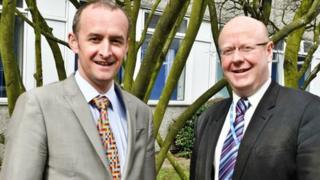 Patients who miss hospital appointments cost the NHS in the eastern region more than £42m in the past year, it has emerged.
There were nearly five million appointments in the east's 24 NHS hospital and foundation trusts in 2012.
But in about 418,000 cases, the patients failed to turn up.
Automated reminders are cutting the number of wasted appointments but hospitals say patients must do their bit by not wasting resources.
'Wasted capacity'
The figures have come from a mix of Freedom of Information requests lodged with the various hospitals and data from the Department of Health.
Although the cost of missed appointments varies widely, a number of hospitals apply a rough figure of £100 - and this has been used to arrive at the £42m overall cost amount.
A spokesman for Colchester Hospital University Trust said: "It is important that members of the public appreciate that they too have responsibilities, like not wasting precious NHS resources."
One hospital to see a significant drop in the number of ''did not attends' (DNAs) was the East and North Hertfordshire NHS Trust.
In April 2011, 4,173 DNAs cost it £417,000. By November 2012, the bill had fallen to £284,670 for 2,847 DNAs.
Dr Tim Walker, a consultant anaesthetist at East and North Hertfordshire, said: "It has been a significant issue because we have a limited capacity to see patients in clinics. If people then don't turn up we have wasted capacity.
'More time'
"We can be saving up to £1.5m a year to the outpatient service without having to lose services or staff."
Jason Foster, deputy general manager for the hospital's outpatient service, said simply reminding patients had played a key role in reducing missed appointments.
While hospitals say they are making efforts to reduce the number of DNAs, not all hospital staff regard them as a problem.
One hospital spokesman, who asked not to be identified, said: "Some doctors actually like DNAs because it means they can spend more time with the patients who do show up.
"In terms of the patient experience it can be a good thing - it is not uncommon for consultants to complain about clinics being overbooked, which is one of the reasons why they overrun."