A14 upgrade: Cambridgeshire businesses pledge £50m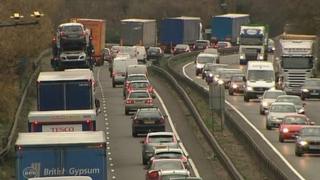 Businesses affected by the £1.5bn government-proposed A14 road upgrade have pledged £50m towards the project.
The Greater Cambridge Greater Peterborough Local Enterprise Partnership (GCGPLEP) said it was a "firm commitment" to the scheme.
The money would come from business rates generated by the new enterprise zone at Alconbury in Cambridgeshire.
It hopes other organisations in the east will pledge funds towards the £125m expected to be raised locally.
The A14 links the country's largest container port in Felixstowe, Suffolk, with the M1 and M6 motorways via Cambridgeshire and Northamptonshire.
Improvements including widening the road and new safety measures were confirmed by the government in the Autumn Statement 2011, and proposals to toll the road were announced in July.
'Considerable contribution'
Last month, businesses and councils from across the region met to discuss ways to help fund the project.
Glenn Athey, executive director of the GCGPLEP, said: "Government has clearly said to us they'd be willing to go forward with this if we could raise a local contribution of up to £150m.
"We want the A14 to go ahead and are willing to engage with them on those terms."
He said business rates collected from the new enterprise zone in Cambridgeshire were expected to raise up to £180m over 25 years, and the partnership's board was "unanimous" that £50m of that be used for the A14.
"It is a firm commitment," he said. "Hopefully it will be a signal to other organisations that we are getting closer to putting a deal forward to government."
County council leader Nick Clarke described it as a "considerable contribution" to the scheme.
"I spoke to the prime minister last week and he's very keen that this pushes ahead. There are no political obstacles I'm aware of in national government," he said.
"It's a case now of working through the engineering solution and making sure we come up with our part of the deal."
Work on the upgrade is expected to begin in 2018.