Oxford child rape trial: Why was it not stopped sooner?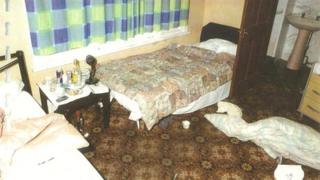 Over a period of eight years, six girls, some as young as 11, were plied with alcohol and drugs, beaten, raped, taken around the country and sold for sex by a group of men from Oxford.
One girl was even forced to have an illegal abortion at the age of 12.
During the time of their abuse, all six victims came in contact with Thames Valley Police and Oxfordshire County Council's children's services.
The court heard the men would hang around near children's homes and girls in the care of social services would disappear for days, returning showing signs of sexual activity.
One social worker said it was "common consensus" they were being groomed. Carers, it was claimed, knew what was happening.
But the abuse continued, the number of victims grew - and they got younger.
Only now, nine years later, have seven men been convicted of dozens of grooming, trafficking, rape and sexual abuse offences.
One of their victims, who is now 21-years old, said the first time she felt believed by the authorities was in 2011 - seven years after she was first raped.
Authorities have since apologised, but could - and should - more have been done to stop this sooner?
Bundles of cash
One summer evening in 2006, a frightened 14-year old phoned police from a dingy flat in Oxford. She was surrounded by 11 men she thought would rape her.
When police arrived they smelled cannabis, and found men with condoms and bundles of cash. They arrested five men, including Akhtar and Anjum Dogar.
The girl told officers she was regularly having sex with older men but when they tried to video her statement, she said she had never been abused and the case stalled.
One month later, another girl, who had just turned 15, ran away from her children's home. Upon her return, staff refused to pay her taxi fare so the driver took her back to Oxford, alone.
With nowhere to go, she sat in Cowley Road - where the men who were abusing her found her.
For the next two days, in hidden corners of Oxford's parks, she was repeatedly raped.
The council said it had such serious concerns about the home, which was privately run, that it reported it to Ofsted. The manager was later sacked and the home closed down.
'Piece of meat'
About a month later, the same girl was found by police with a man who, it later emerged, had been exploiting her for two years.
A medical examination found signs of forceful sex and she told police she was regularly raped and treated like "a piece of meat".
The men who controlled her, she said, were doing it to others, "little girls in school uniforms".
She gave a video-taped statement and Ahktar Dogar was arrested on suspicion of rape.
But five days later, when an unconnected rape case in which she was also the victim collapsed, she withdrew her support for the other allegation.
In November the same year, a man staying at the Nanford guesthouse on Iffley Road called police after hearing a disturbance in a nearby room.
Officers arrived to find a 14-year old girl, naked and cowering in a cupboard. Hysterical and incoherent, she had been beaten, urinated on and raped.
In the three years she was abused, that same girl was reported missing 80 times.
During this period, a police missing persons coordinator submitted intelligence reports, saying one girl told her she had been kept against her will by "Asian" men and forced to snort cocaine.
She reported that the girl said she was being prostituted within the Asian community in Cowley, with people paying £50 to have sex with her.
Police said numerous attempts were made to convince the girls to give evidence, but under the abusers' control, few felt able to.
Arrests and charges were brought between 2005 and 2008, involving four of the victims and four of the men. One man was convicted and another pleaded guilty.
But it was not until 2010 that police and social services had began making links between girls, and realised they were being groomed by an organised group.
Eight years after the first girl in the case was raped, the definitive breakthrough came when police swooped on the gang, making several arrests.
Children 'brainwashed'
Joanna Simons, chief executive of Oxfordshire County Council, said social workers were doing the best they could at the time, by trying to protect the girls and repeatedly reporting incidents to police.
"They were following girls, staff would sit outside children's bedrooms at night, window limiters were put on windows, all sorts," she told the BBC.
She said girls' mobiles were confiscated, their internet access stopped and staff made checks on them every 15 minutes.
"One of the real problems with the nature of grooming is what actually happens. Children are effectively brainwashed, a bit like a cult.
"They think these men are their friends, they don't see themselves as victims. These guys are very, very devious criminals.
"We're incredibly sorry that we weren't able to stop this any sooner."
One victim claimed the council acted as if it "wasn't their problem", but a spokesman said it had "tried its hardest to support parents throughout" and was "sorry if this was not enough".
'Cause of regret'
Councils can place a child in a secure unit for just 72 hours, but thereafter only a court can decide if this should continue not social workers, the council said.
Both the police and the council's actions in the case will be subject to an an independent serious case review.
Thames Valley Police Chief Constable Sara Thornton said: "It's a cause of regret to me that it took so long to put the case before the court and I said so personally to the young women and their families.
"I have looked at the cases and between 2004 and 2008 there were opportunities, but they were very hard to grasp.
"The young women at that time were very young girls and were very reluctant to give evidence.
"On several occasions we made arrests, but didn't charge.
"In one case we actually got to court and the case had to be abandoned because the witness was just so distressed."