Oxford exploitation trial: Girl 'refused world of sex and drugs'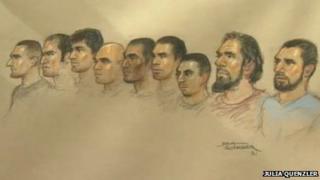 A teenage girl refused to get drawn into a world of sex and hard drugs being orchestrated by an alleged child sex ring, the Old Bailey has heard.
The 17-year-old is the last of six alleged victims to give evidence in the trial of nine men accused of grooming and exploiting girls for sex in Oxford.
In a video interview, she said one of the girls would lie about her age.
The men, from Oxford and Berkshire, deny 51 offences including rape and trafficking from 2004 to 2012.
The teenager said in a police interview played to the court she visited defendant Zeeshan Ahmed's flat, got drunk and smoked cannabis but refused to take cocaine.
'Sex for cigarettes'
"He had it on a huge plate like a cooking plate and he had it in lines. I said 'I'm not doing it' especially with the kind of people who were in the house at the time."
But when she was 15 she did have sex with Mr Ahmed, but only because she was drunk and would not have done if she was sober, the court was told.
It was heard she rejected other men's advances and became concerned at the growing number of strangers hanging around the flat.
"They were planning for us to have a drink and they thought one of us would end up in bed with them," the court heard.
The witness said she regularly saw one of the other alleged victims, who was aged 12 or 13 at the time, having sex with men, but she lied about her age and claimed to be 18.
She described how girls out at night in the Cowley Road area were presumed to be prostitutes and taxi drivers would sound their horns assuming "they were up for it".
One girl traded sexual favours for cigarettes with a shopkeeper, jurors heard.
The trial is expected to last until May.
The defendants are:
Kamar Jamil, 27, formerly of Aldrich Road, Oxford
Akhtar Dogar, 32, of Tawney Street, Oxford; and his brother Anjum Dogar, 30, of Tawney Street, Oxford
Assad Hussain, 32, of Ashurst Way, Oxford
Mohammed Karrar, 38, of Kames Close, Oxford; and his brother Bassam Karrar, 33, of Hundred Acres Close, Oxford
Mohammed Hussain, 24, of Horspath Road, Oxford
Zeeshan Ahmed, 27, of Palmer Road, Oxford
Bilal Ahmed, 26, of Suffolk Road, Maidenhead