Coroner calls for gun reform after Horden shootings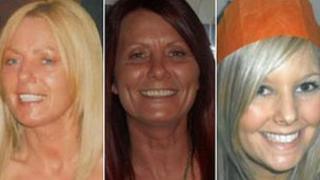 A coroner has called for "root and branch" gun licensing reform after ruling three women shot in a house in County Durham were unlawfully killed.
Michael Atherton, 42, shot his partner Susan McGoldrick, her sister Alison Turnbull, Ms Turnbull's daughter Tanya and himself, on New Year's Day 2012.
The inquest heard he legally owned weapons despite a history of domestic abuse.
The police watchdog said Durham Police missed opportunities to assess him.
The force said it had now put in place a number of improvements to its firearms licensing system and was setting a higher bar for approval than required by national guidance.
Deaths 'avoidable'
Chief Constable Michael Barton told relatives: "I apologise on behalf of the organisation that your family and friends have been put through what nobody would want to go through."
Taxi driver Atherton legally owned six weapons, including three shotguns.
Following an argument at his home in Horden, near Peterlee, he shot Ms McGoldrick, 47, Ms Turnbull, 44, and 24-year-old Tanya Turnbull.
Ms McGoldrick's 19-year-old daughter, Laura, was next to her mother at the time but escaped.
The coroner Andrew Tweddle heard Atherton had his guns confiscated in 2008 but shortly after they were returned to him with a written "final warning".
In his inquest judgement, he described the deaths as "avoidable".
'Woeful record keeping'
He said: "The systemic shortcomings highlighted by me today lead me to conclude that, on a balance of probabilities, the four deceased would not have died when they did in the manner in which they did had there been robust, clear and accountable procedures in place."
He accepted no-one in the police Firearms Licensing Unit was guilty of acting in bad faith, but the system was not fit or purpose and decision-making was flawed.
Mr Tweddle said the licensing of shotguns and other firearms licensing was being considered by the government.
"In my opinion, the issues revealed by my inquiries into these deaths have made it absolutely clear and beyond doubt that a root and branch review of policy, guidance and procedures and indeed possibly legislation too, to ensure... that the protection of the public is paramount," he said.
Nicholas Long from the Independent Police Complaints Commission (IPCC) said: "Not only did the IPCC investigation uncover a wanton lack of intrusive inquiries by Durham Constabulary, it also identified poor practices which reflect woeful record keeping.
"While some of the failings were down to individuals, the underlying issue was Durham Constabulary's lack of adequate systems and safeguards."
The deputy chief constable of Durham, Michael Banks, said: "If we were presented with the same facts today, that licence would not be granted."
He said there had been a number of improvements, including direct links from the control system to a firearms licensing system.
"Now if there's any intelligence around domestic violence in the family setting or intemperate behaviour then there is a presumption that a firearms licence or shotgun certificate will not be granted," he said.
He added that after the Atherton case, Durham Police had reviewed thousands of gun licences and revoked more than 100.
'Poor leadership'
Outside the hearing, Bobby Turnbull, Alison's son and Tanya's brother, said the inquest had exposed serious flaws in licensing.
"This includes lack of training, if any at all, lack of process, lack of accountability, poor leadership and poor communication structure," he said.
In a statement, Peter Atherton, the father of Michael, said despite the investigation and inquest the family still had no idea why Michael took "the course of action that he did".
"Unfortunately this has not been the case as the only person who could have answered our main question as to what pushed Michael over the edge that night is not here to give these answers," he said.