Sikh temples feel strain of helping the homeless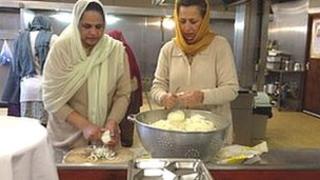 It is nearly lunchtime at the gurdwara and a group of women are busy preparing food in the large kitchen.
The smell of onions and Indian spices fills the large room.
The kitchen is open from 05:00 each morning and will feed langar - the free meal available to all worshippers - to nearly 300 people throughout the day.
Peter Lowe is a non-Sikh and is one of the people here this lunchtime, sitting on the carpeted floor of the langar hall with the worshippers.
Mr Lowe, 28, starting coming to the gurdwara when he was homeless a few years ago.
''I didn't have a job and I couldn't access any benefits, and I was struggling to feed myself'', he recalls while eating the langar.
"Someone told me about the gurdwara and how I could come here to eat a hot meal.
"When I first came, I didn't know what to expect. But everyone was very friendly and welcoming - they showed me around and never asked me for anything.
"I would come to the gurdwara a couple of times a week.
"It gave me a lot of support knowing that there was somewhere I could go to when it was cold and wet outside and I had nowhere else to go.
''The gurdwara was like my sanctuary.''
Mr Lowe is now back on his feet and is studying at the University of Leicester.
The Guru Nanak gurdwara in Leicester is just one of the places of worship which has seen a sharp rise in the number of people turning up for food and shelter.
Anyone can enter a gurdwara, irrespective of religion, sex or background and all visitors are welcome to have langar.
There are about 300 gurdwaras across the UK and the Sikh Council UK says thousands of Sikhs and non-Sikhs are turning up each week for meals and shelter.
''The homeless and hungry people coming to our gurdwaras is a growing trend we have seen in the last couples of years,'' said Sukhvinder Padda, the assistant secretary general of the Sikh Council UK.
''The economic situation has affected many families and gurdwaras are experiencing the outcome of that.
''More people are turning to our places of worship because there is growing awareness about gurdwaras and the fact that they are open to everyone,'' said Mr Padda.
Many gurdwaras are having to cope with problems of anti-social behaviour on their premises.
''This is a place of worship and on the board outside we have a clear sign saying, 'Please do not bring alcohol, cigarettes or drugs into the gurdwara','' said Sulakhan Singh Dard, the vice president of the Guru Nanak gurdwara.
''But we are having problems every single week with anti-social people who are drunk or taking drugs coming into our gurdwara.
"I have had to clean vomit in the toilets and pick up cigarette butts left in the langar hall.
''Some people become threatening or violent when we turn them away and we are regularly having to call the police.
"On one occasion someone we turned away told us he would come back with a double-barrel shotgun and shoot us all down," he said.
While most gurdwaras are happy to welcome homeless people or anyone that is hungry on to their premises they will not tolerate individuals who do not abide by the rules of the temple.
''It is not acceptable to have to deal with anti-social behaviour in our premises," said Mr Padda.
''The government, the social services and local authority should be doing more to help these people. It has become a real burden and stress for our gurdwara."
You can hear more on this story on Asian Network Reports at 1300 and 1700 GMT or listen back via the BBC iPlayer