Call for inquiry after teenagers' custody deaths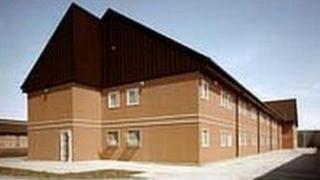 Campaigners are calling for an independent inquiry into the detention of young people following a report into the deaths of three teenagers.
Alex Kelly, 15, died at Cookham Wood in Kent, Jake Hardy, 17, at Hindley in Wigan, Greater Manchester, and Ryan Clark, 17, at Wetherby, West Yorkshire.
The prisons ombudsman found two may have suffered bullying in the young offenders' institutions.
The Ministry of Justice said safety of young people in custody is a priority.
A report by ombudsman Nigel Newcomen found two of the three teenagers - who died in 2011 and 2012 - were extremely vulnerable and should have been moved to specialist units.
It revealed they may have been bullied.
'Holistic inquiry'
The report said: "One child reported this bullying repeatedly to a variety of staff. However, he gave no names and without names staff said they were unable to act, even though it was clear who he meant.
"Evidence from CCTV suggested that even when staff witnessed harassing behaviour from other young people it was not adequately challenged.
"In the other case, bullying was not reported and might have occurred only the evening before the boy took his own life. However, bullying by shouting out of cell windows was a recognised problem at the establishment."
Mr Newcomen said staff should respond more robustly to bullying and make sure that children have access to outside support such as family members when in crisis.
Deborah Coles, of campaign group Inquest, said: "Sadly the issues raised are not unique and are a depressingly familiar feature of previous deaths. There have been 34 deaths of children in prison custody since 1990.
"An independent, holistic inquiry, where these issues are examined in the context of the entire system of detention for children, is long overdue. It's time to break the cycle of harm and death."
'Terrible consequences'
Frances Crook, of the Howard League for Penal Reform, said the deaths could have been avoided if the boys had received non-custodial punishments.
She said: "The simple fact is that children who end up in custody are highly vulnerable - they might be victims of neglect, have mental health issues or be growing up in a home plagued by drug and alcohol abuse.
"This reveals the terrible consequences of putting these children in prisons, based on a system for adults, which puts punishment before welfare needs."
A Ministry of Justice spokesman said: "Deaths in prison are amongst the most scrutinised of all events in custody and every death is subject to an investigation by the police and the Prisons and Probation Ombudsman as well as a coroner's inquest.
"The learning points highlighted by the ombudsman raise important issues and provide a crucial tool for front-line staff. Strenuous efforts are made to learn from each death in custody."