Yorkshire Ambulance Service workers hold strike vote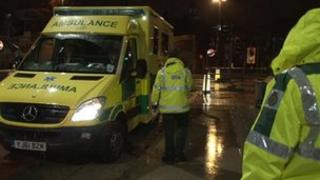 Ambulance workers in Yorkshire are voting on whether to strike in a row over staffing changes.
The dispute is over plans to introduce emergency care assistants to work alongside more highly trained paramedics.
The Unite union claimed the decision would jeopardise patient care.
The trust, which has to save £46m over the next five years, said the changes were due to the "realities of the tough economic climate".
Unite regional officer Terry Cunliffe urged the trust to rethink its plans.
He said: "Currently, paramedics undergo a two-year degree course to equip them with the correct skills to respond to patients.
"The new proposed emergency care assistant role will be responding to emergencies with only six weeks training."
Stephen Moir, the deputy chief executive at Yorkshire Ambulance Service NHS Trust, said that its working relationship with Unite "has been deeply disappointing over a prolonged period".
Mr Moir said: "We have not received a constructive contribution to the difficult decisions the trust has been required to make for the future, particularly as we seek to maintain high-quality care for patients against the realities of the tough economic climate."