TV's The Apprentice winner Stella English 'overpaid lackey'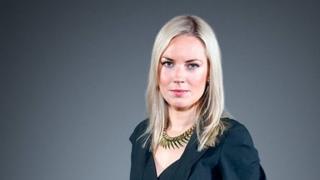 A winner of TV's The Apprentice was just an "overpaid lackey" at Alan Sugar's firm, a tribunal has heard.
Stella English, from Kent, won the BBC show in 2010 and got a job in Lord Sugar's IT company Viglen.
However, she told the East London Employment Tribunal Service she had no choice but to resign after being told her contract was not being renewed.
Ms English, who earned £100,000 a year, claims constructive dismissal, saying she had no real role at the firm.
She said she saw Lord Sugar five times during her 13 months at Viglen.
'A sham'
Ms English, 34, from Whitstable, said she was given a desk and a phone but no specific duties during a four-month probationary period and she carried out basic administrative tasks.
She said her boss Bordan Tkachuk looked at her with "contempt" on her first day and said: "There is no job."
Ms English said she did not say anything to Lord Sugar because she "did not want to be a troublemaker".
Her colleagues ostracised her and told her she had taken a job from another woman who had a £35,000 salary, she said.
The tribunal heard when Lord Sugar asked Mr Tkachuk what he thought of her, he replied: "Nice girl. Don't do a lot."
Describing her employment as "a sham", she added: "The career-enhancing opportunities that The Apprentice position had been sold as simply failed to materialise."
Ms English said she told Lord Sugar: "I have tried so hard for so long and it's not working. I'm an overpaid lackey."
The tribunal heard Lord Sugar offered her a role in another company, YouView, which she started in June 2011, but she encountered similar problems.
'Bombshell dropped'
That September, she was told Lord Sugar would not be renewing her contract, she said.
Ms English, who left school with no qualifications but became the only female manager on the trading floor of a Japanese investment bank earning £82,500 a year, told the tribunal of her shock.
She said she had begun to enjoy working at YouView and was aiming for a business development management position.
She said: "That was the bombshell that I wasn't really expecting at all.
"Until that moment I had believed that I was doing a good job. I thought that he would be happy that I wasn't hassling him."
The Apprentice had been filmed in 2009 and was screened by the BBC in autumn 2010, during her probationary period at Viglen.
'Talk of doom'
During cross-examination by Seamus Sweeney, representing Lord Sugar, Ms English admitted producers warned entrants it was not advisable for them to leave their jobs in case they did not win.
In a "talk of doom", entrants were also warned about potential publicity, the tribunal heard.
Ms English said her previous employers gave her a sabbatical during filming but she left her job to go and work at Viglen.
She said she did not remember being told the winner might not work directly with Lord Sugar but understood previous winners had done so.
Ms English said she went on The Apprentice to be an apprentice and to be mentored by Lord Sugar.
The hearing was adjourned until Wednesday.