Record high for cruise ship passengers in the UK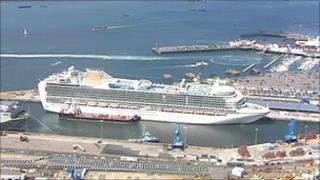 The number of people leaving UK ports on cruises rose 10% last year to a new high of 962,000, the Passenger Shipping Association (PSA) has said.
There was also an 11% increase in the number of passengers visiting UK ports during cruises in 2012.
In total, 723,000 holidaymakers visited UK ports last year - double the 2007 figure.
The south coast ports of Southampton, Dover and Portsmouth saw the biggest increase in port activity.
PSA now hopes UK ports will achieve the one million mark this year.
'Combination of challenges'
The 962,000 passengers who left UK ports on cruises in 2012 were from the UK and overseas.
Last year, which began with the Costa Concordia cruise ship disaster off Italy which claimed 32 lives, saw only a small increase in the number of UK passengers taking a cruise holiday - up by just 1,000.
Of the 1,701,000 UK holidaymakers who went on cruises, nearly 700,000 embarked on a Mediterranean trip.
Northern Europe cruise passenger numbers rose 30% to 443,000, with Norwegian fjords voyages proving particularly popular.
In the top-of-the-range market, known as ultra-luxury cruising, there was a 30% surge in summer sales.
The number of Britons who took more than one cruise also increased.
Most cruise passengers lived in southern England, with more than 187,000 coming from Scotland, more than 102,000 from Wales and just over 34,000 from Northern Ireland.
PSA director William Gibbons said 2012 had been an "impressive one for the UK cruise industry, especially in view of the combination of challenges the year presented".