East of England paramedics poorly managed, says whistle-blower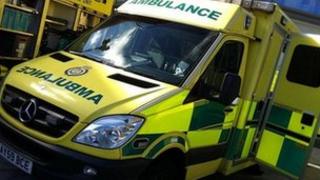 Paramedics in the East of England Ambulance Service (EEAS) are being let down by "very poor management", a whistle-blower has told the BBC.
The employee said the health trust's plans to bring into use 15 extra ambulances were "not workable" because of a shortage of staff.
He said staff are facing greater pressures at work.
The EEAS trust said it understood the pressure crews were under and was working to boost staff numbers.
Last month, the EEAS said it was bringing into use the 15 vehicles to help cut delays, but has now revealed that only three of them are in full-time operation.
'High sickness level'
The acting chief executive of the ambulance trust, Andrew Morgan, said they were key to reducing waiting times.
Reacting to the claims about the extra ambulances, a whistle-blower, who did not wish to be identified, told the BBC: "You can say what you want but if you don't have the staff you can have as many ambulances as you like, it won't help you.
"Staff on the front line over the last few years have been more and more pressurised, hours have been increased... The only safety valve is to go off sick. That's one of the reasons the sickness level is high, which I acknowledge it probably is."
He said staff have a "very poor" view of the trust's management.
"More administrative jobs are being created," he said. "You have a good, conscientious and skilled workforce being let down by a very poor management."
A spokeswoman for the EEAS said: "We fully recognise crews are under pressure which is why we are recruiting 200 more frontline staff, including 75 new paramedics, bringing the total number of paramedics up to 65% more than there were six years ago
'Spectacular own goal'
"Three of the 15 extra ambulances are out full-time with others on the road as often as we can get staff to crew them until all our new recruits are on board."
In response to criticism of management, she added: "Support service departments have all been asked to cut their costs by at least 10% in time for the coming financial year so it is absolutely not true that more [administrative] jobs are being created, quite the reverse.
"As for the other subjective thoughts we can only say what we have been saying for the past couple of weeks, that the trust is implementing a number of initiatives to improve staff morale and patient care."
Health minister and North Norfolk MP Norman Lamb said he was concerned about the failure to get out the 15 extra ambulances.
"It does seem like a spectacular own goal to make such an important announcement, which was widely well-received and then a week later to discover that they couldn't actually staff these ambulances," he said.