Junior Heffernan: Tributes to race death cyclist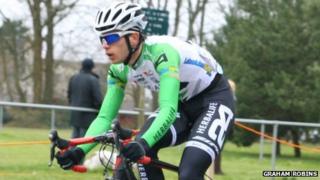 Tributes have been paid to a cyclist who died in a crash with a car during a road race in South Gloucestershire.
Junior Heffernan, 23, from Yelverton, near Plymouth in Devon, was killed in the collision at Elberton during the Severn Bridge Road Race on Sunday.
Avon and Somerset Police said the car was travelling in the opposite direction.
Team Herbalife Leisure Lakes Bikes said he was "a young man with an enormous talent and enthusiasm for bike racing".
Mr Heffernan - known as "The Heff" - was a keen athlete, and had been a member of Plymouth Leander swimming club and the Plymouth Harriers.
'Immensely enigmatic'
He was on the third lap of the 10-lap, 66-mile (106km) cycle event in South Gloucestershire, organised by the Bristol Road Club, when he came off. The race dates back to the 1960s.
Police said it happened on the B4461 Vattingstone Lane at the junction with Mumbleys at about 12:45 GMT on Sunday.
Mr Heffernan was declared dead at the scene.
Herbalife Leisure Lakes Bikes said: "His outgoing personality and infectious nature meant that, for the short time that his team-mates knew him, he was welcomed and well liked by all and the team were excited by the prospect of seeing him race.
"Junior was an exceptional climber who was signed to strengthen the team in this field."
Robin Brew, his former swimming coach at Tavistock's Kelly College, said: "He was one of those immensely enigmatic characters that you would warm to and remember forever.
"He was committed and worked incredibly hard and set a standard that others could only applaud."
Event organisers said it was an "awful tragedy".
Police have appealed for anyone who filmed or took photographs of the race to come forward.