Hornby 150th anniversary celebrations get under way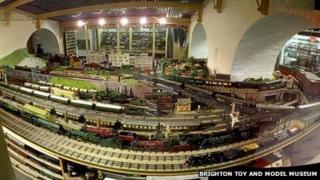 A year of celebrations marking the 150th anniversary of the birth of the inventor of Hornby trains, Meccano and Dinky toys is getting under way.
Brighton Toy and Model Museum has been given a £34,000 lottery grant to celebrate the life of Frank Hornby.
"The toy museum, I would say, has got the finest collection of Hornby products to be seen anywhere, in the world," said director Chris Littledale.
"We have got a staggering collection of Mr Hornby's trains in various sizes."
He said the Hornby 00 Gauge railway was "a lovely thing - more than a toy".
'Humble man'
Frank Hornby was born in Liverpool in 1863 and began to manufacture toys, beginning with Meccano, in a small one-room factory in 1901.
The company's HQ was at Binns Road in Liverpool for more than 60 years. It was later taken over by the owners of Tri-ang, whose factory was in Margate, Kent.
There is still a Hornby visitor centre near Margate.
Mr Littledale said Hornby was "quite a humble man".
"He was one of these people who had ideas and he had this sudden idea that it would be educationally rather good to put together a geometric system whereby you could nut and bolt things together," he said.
"The name Meccano was derived from mechanics made easy. He coined that phrase - it was very clever marketing."
"Dinky didn't come in until the 1930s, then Dinky toys were hugely popular right into the 1960s."
By 1931 Hornby was the owner of a multinational business, MP for Everton, and a millionaire.
The anniversary year was being launched on Saturday night at the museum, which occupies Victorian arches in Trafalgar Street, underneath Brighton railway station.
The Heritage Lottery Fund grant will pay for new screens and interactive displays and educational resources about Frank Hornby's life.
It will also fund a programme of events and activities, including festivals on Merseyside and Liverpool and a Frank Hornby week in Brighton.